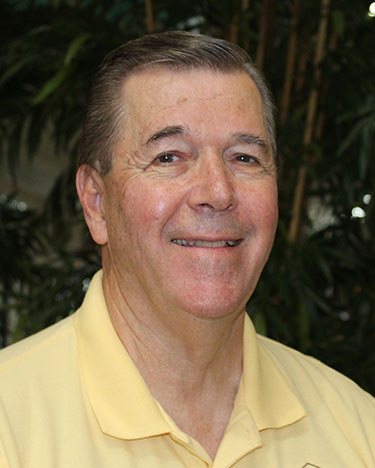 Royal Palm Beach Councilman Dave Swift is being challenged by former Councilman Richard Valuntas for Seat 2 on the Royal Palm Beach Village Council in the Tuesday, March 14 election.
Swift has served on the council for nearly three decades, although he did take several years off along the way. His most recent stint on the council began four years ago.
Before his retirement, Swift worked for the South Florida Water Management District for 34 years.
"I was an environmental scientist and worked in the Everglades and on Lake Okeechobee, primarily as a project manager for cleaning up pollution," he said. "I have been a councilman and vice mayor here in Royal Palm Beach for 29 years, which my opponent feels is a problem."
Before his time on the council, Swift was chairman of the village's Planning & Zoning Commission in 1985 when Royal Palm Beach was listed among the nation's fastest-growing communities.
"I have a lot of planning and land development experience here in the village, and when I think of the council people, I have the most experience," he said. "When I came to Royal Palm Beach, there was no high school, and there really was not a place to shop," he said. "In 1985, I started the Education Committee, which still exists today. Our sole charge was getting a high school for Royal Palm Beach. It took 10 years, but we finally got a high school for Royal Palm Beach."
He is also proud of his work improving recreation facilities in the community.
"My kids were young and recreation was a big deal, and I basically got the recreation center built," Swift recalled. "I bugged them so much we finally got it built."
Swift is proud of all that Royal Palm Beach has to offer and feels he deserves some of the credit.
"If you moved to Royal Palm Beach in the last 20 years, everybody has told me it's a nice place to live. It has a low crime rate, it has good schools, it has good services, it has a great recreation department, and so on," he said. "The fact is I'm the longest-serving elected official in the history of the village, and I played quite a role in all of that."
Among his top accomplishments, he lists hiring the late David Farber as village manager. He credits Farber for bringing the needed professionalism to village operations.
Swift said that Farber turned the village around, making it a respected voice in government in Palm Beach County and the state, putting the village on a path it has been following ever since.
"The path is this: we wanted to reduce taxes over time, and we wanted to look at opportunities to do that, so the first thing we did was merge the old fire department with Palm Beach County Fire-Rescue, and next we merged the old village police department with the Palm Beach County Sheriff's Office, and basically reduced the millage immediately," he said.
Next, Royal Palm Beach put money in the bank by selling its water utility to the county.
"The county spent millions of dollars putting in utility lines all the way in to Royal Palm Beach just so they could go to [the proposed Scripps site at] Mecca Farms. Mecca went away because of a lawsuit, and the county said, 'Gee, we need some people to hook up.' We said, 'Yeah, let's talk about this.' So we sold the water utility and made $70 million on that."
More recently, the village sold its old wastewater treatment plant site for $35 million.
"We brought in more than $100 million bucks in the last 20 years," Swift said. "Where we stand today, we have $89 million in reserves. I do not know another city in the State of Florida that has that. Our $23 million Royal Palm Beach Commons Park is paid off, and we are debt-free."
Swift believes that he is the better candidate to serve because he has more experience and is an independent thinker. "I'm not tied to any developer or development group, and when something comes up, I look at what's best for the residents," he said.
His top goal over the next two years is to control traffic that developments to the north and west will generate.
"I'm the chairman of the Western Communities Council, and I'm hoping I can get everybody to start talking with our [county] commissioner, Melissa McKinlay, on just how we can manage that," Swift said. "We really need to be having that discussion right now."
He also wants to see completion of the State Road 7 extension to Northlake Blvd., which still awaits the result of a lawsuit brought by the City of West Palm Beach.
"We hope to get a favorable ruling in March so that State Road 7 can begin construction," he said.
He also wants to see traffic calming issues resolved.
"Royal Palm Beach Blvd. is way overcrowded, and it has become worse and worse in the last two years," Swift said. "Everybody doesn't want to go down there, so they cut through the side streets, including me, and some of those people don't follow the speed limit, and they are causing lots of problems here."
Swift said he has walked Sandpiper Avenue, a popular cut-through street under study by the village, knocking on doors and asking residents their feelings about traffic calming. Some want more enforcement, and others want speed bumps.
"We've got to come up with a plan of how can we get the community to come to an agreement on what they want," he said.
Several new developments have been proposed in Royal Palm Beach. Swift favors some of them, including one at the southeast corner of SR 7 and Okeechobee Blvd.
"A well-known West Palm Beach developer wants to develop a senior citizen assisted-living facility/nursing home," he said. "We have three other sites that have been considered for memory care/Alzheimer's facilities… We need that kind of facility in Royal Palm Beach."
He believes that a major development underway on the south side of Southern Blvd. just west of SR 7 has not yet undergone enough public scrutiny.
"It needs to be vetted in some way," Swift said. "They have big plans that I think the community needs to know about."
Swift believes that council meetings are currently conducted congenially and organized effectively.
"I think [Mayor] Fred [Pinto] is doing a good job," he said. "He does a very good job of trying to run the meetings and get input from the residents and come up with options."
Swift also thinks Ray Liggins is doing a good job as village manager, but could have done better work in handling the traffic calming issue.
"It was one of the most confusing meetings I have been to," he said. "It's not Ray, it's that staff can't explain it in easy terms that the public can understand."
He said the village's recreation amenities are great but that their upkeep is the second-highest item in the budget.
"It's 20 percent of our budget," Swift said. "That's very large for a community to spend on its parks. In tough economic times, we're going to have to cut back on some of those parks. I'm retired now, and I use them a lot, almost every day, but it's a large part of our budget."
He noted that Royal Palm Beach has not fully discussed how to control encroaching development in a manner that will ease the effects of traffic locally.
"Okeechobee Blvd. is going to be a nightmare, and I feel for the Loxahatchee Groves people," he said. "They're going to have the brunt of it, and as it gets to Royal Palm Beach, it's going to really impact us. Southern Blvd. is the same way."
He said that the possible opening of Madrid Street to SR 7 should be a discussion for the residents who live there, and added that the traffic calming process should help in evaluating whether to open the access point.
Asked if there's anything the council has done that he strongly disagreed with, he said the approval of the RaceTrac gas station upset a lot of people in the neighborhood, who remain disgruntled.
"The way it was presented, it was to go through without a lot of public comment," Swift said. "I tried to slow it down so the people could understand what was going on."
Swift believes, despite his opponent's charge that he has been on the council long enough, that the village's low crime rate, good schools and public services bear out his successes.
"I feel that I played a role in that, and I'm not ready to step down yet," he said.
His vision for the future of the village is to follow the strategic plan developed by the residents and the council, but added that something not yet in the plan is to develop a transportation mobility plan for seniors.
Swift added that for him the upcoming election is a win-win situation. "If I win the election, that's nice, but if I lose the election, I get to spend more time with my grandkids, and fish," he said. "It works for me."
Swift said voters should vote for him because he has more experience and pays attention to the needs of residents. "I listen to voters, and I make decisions based on what they want," he said.