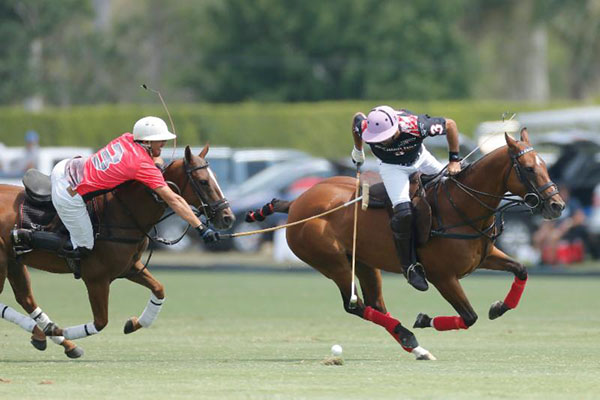 As the winter polo season heads toward its final weekend at the International Polo Club Palm Beach, Orchard Hill and Travieso notched victories in 2017 U.S. Open Polo Championship play on Sunday, April 16.
After losing its initial two games in the U.S. Open, Travieso found its stride, which the team hoped would carry over to last Sunday's mini quarterfinal match against Coca-Cola.
Throughout the game, two distinct story lines emerged. The first was the number of opportunities that Coca-Cola created throughout the game, juxtaposed with the team's inability to convert on those chances.
After an amazing opening run by Gillian Johnston to start the scoring, Coca-Cola would only make three of its next 12 shot attempts in the first half, allowing Travieso to stay in the game.
The second factor was Coca-Cola getting into foul trouble, handing opportunities to a Travieso team that was shooting 82 percent from the penalty line, courtesy of Mariano Gonzalez. Gonzalez converted two of his three attempts in the first half, to go along with one goal from the field, while teammate Sebastian Merlos also added two goals from the field. Travieso survived the first half trailing 6-5.
The fourth chukker was critical for Travieso and frustrating for Coca-Cola. Travieso didn't manage a single shot on goal from the field in the chukker. Nonetheless, the team managed to win the chukker, capitalizing on five Coca-Cola fouls that resulted in three penalty attempts for Gonzalez. He converted all three to give Travieso its first lead in the game.
After Julio Arellano's third goal of the game got Coca-Cola back within one, Merlos converted back-to-back shots from the field for his third and fourth goals. That pushed the Travieso lead back up to two (11-9) late in the game (11-9).
Although all four Coca-Cola players found the scoresheet, they missed many opportunities. Travieso battled all game long, taking advantage of nine penalty attempts and a final run by Alfredo Capella to seal the game and give Travieso the 12-10 win and a spot in the semifinals.
Earlier in the day, defending champion Orchard Hill defeated Audi 11-10 in a game of starkly contrasting styles. Orchard Hill used a strategy of Facundo Pieres and Polito Pieres falling in behind one another, maintaining control of the ball with taps and then eventually having one of those players release downfield. It was effective, and Orchard Hill held Audi to one shot through two chukkers and took advantage of five Audi fouls to claim an early 4-1 lead.
Audi, on the other hand, was playing more of a pass forward style, using its balanced line-up to generate offense. After a slow start, Marc Ganzi finished off his first two runs at goal, a good sign for Audi if Ganzi could continue to convert in the #1 position. Alejandro Novillo Astrada added a goal in the third chukker, but Audi was having a difficult time containing Facundo and Polito Pieres. The score at halftime had Orchard Hill ahead 6-3.
Audi began to chip away at Orchard Hill's lead, thanks to the penalty shooting of Nic Roldan. After missing his first attempt, Roldan went a perfect five-for-five on his penalty attempts in the second half. That got Audi back in the game, controlling possession and limiting Orchard Hill to four shots in the second half. Orchard Hill converted all four shot attempts from the field, with Polito Pieres scoring three goals and Facundo adding one, while also converting one penalty attempt.
A late penalty 1, followed by a goal at the final horn for Audi wasn't enough. Orchard Hill held on for the 11-10 victory and secured a spot in the semifinals behind an eight-goal performance from Facundo Pieres and three goals added by Polito Pieres.
The winter polo season at IPC concludes this Sunday with the finals of the U.S. Open Polo Championship. A wide array of social options are available. For more information, visit www.internationalpoloclub.com.
ABOVE: Magoo Laprida and Facundo Pieres fight for control of the ball.