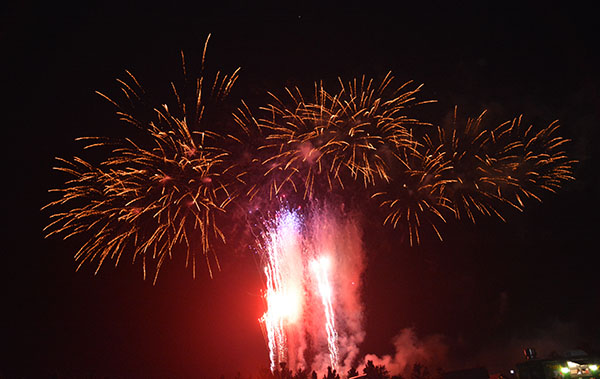 The Village of Royal Palm Beach will stage its annual Star Spangled Spectacular celebration on Tuesday, July 4 at Royal Palm Beach Commons Park.
Program Supervisor Carlos Morales expects close to 20,000 people in attendance.
"The biggest thing is bringing the community at large together," Morales said. "It's just the range, the size of how big this park is, that we're able to fit all of this together. How many locations have this to offer? I think that's what makes us unique, and that's what makes Commons Park unique."
The main celebration at Commons Park will begin at 1 p.m. and culminate with a fireworks display at 9 p.m. "We encourage people to stay," Morales said. "There is no rush to leave. People can stick around. The music and everything will continue until 10 p.m."
The first event to start the day will be at 6 a.m. That will be the annual children's fishing tournament, hosted by the Royal Palm Beach Bassmasters. Competitors will meet at the banquet garden in Commons Park.
There will be an adult beach volleyball tournament for ages 18 and up that starts at 10 a.m. Teams will be entering as twosomes. The popular cornhole tournament is back and open to all ages. That starts at 5 p.m. New this year is a ladder golf tournament, another game to add to the list of things to do, at 3 p.m.
The village partnered with Salty Dog Paddle to bring paddleboard and kayak rentals to this year's festivities. These rentals will be available from 1 to 8 p.m.
"It's the first time that we've partnered with them for this. I think that will be something exciting and new," Morales said. "People should definitely look out for that."
The Food Truck Invasion will return to the celebration, along with arts and craft vendors. Those are available starting at 1 p.m.
"We'll have an assortment of food trucks throughout the event," Morales said.
The one event of the day that isn't located at Commons Park is the Mayor's Firecracker Golf Tournament, which will be held at the Village Golf Club. It starts at 8 a.m. Mayor Fred Pinto will play in the golf tournament this year.
"I think it's fantastic that the mayor is participating in the golf tournament, because it gives him a chance to be with the residents, as well as build a relationship with local golfers," said Rochelle Wright, Royal Palm Beach's program coordinator for special events. "It's great for everyone to come together for this event."
The golf tournament costs $75 for individual golfers, $300 for a foursome and $100 for hole sponsors. "We have a lot of raffle prizes, and a lot of giveaways," Wright said. "We're going to have free food, and it's a great event."
Lunch will be a barbecue buffet, free of charge to all who compete.
As the day starts to become night, live entertainment will show up on stage at Commons Park. Wonderama will play current hit songs starting at 4 p.m., followed by Lazy Bonez, the Amazing '80s Rock Show, at 6 p.m. To close out the night, the Boss Project, a Bruce Springsteen tribute band, will play covers of Springsteen's Americana hits.
For more children's activities, visit the kids zone at Commons Park. For a $10 bracelet entry, children will have live disc jockey entertainment, along with outdoor activities that include the interactive fountain area, carnival-style slides, games and more. It runs from 1 p.m. until the fireworks at 9 p.m.
"From morning until night, there is going to be constant activity for children and families," Morales said.
He added that personal tents can be brought to the park and used during the day with conditions. People who set up tents at the front of the stage area, where entertainment will be performing, will be asked to move them to designated areas.
"If people plan on bringing any personal tents to the park, there are designated areas in the Great Lawn where they can place their tents, which is more so on the outer perimeter parts of the Great Lawn. There will be staff to help them if they cannot find that location."
Parking at the event is free of charge, but Morales warned that it will fill quickly. He recommended arriving early to the event. The park is open all day.
"We want people to arrive early. Parking is a premium. It is limited, so get there early. Bring your lawn chairs. Bring your blankets," Morales said. "If people arrive late, if they get there at 8 p.m., expect heavy traffic up and down Royal Palm Beach Blvd. People are welcome to park at the Royal Palm Beach Cultural Center, Village Hall, [Lindsay] Ewing Park or Veterans Park, but they will have to walk to Commons Park."
The driving range and other golf practice areas at the park will be open for use during the day's events. All recreation tournaments, which include the Mayor's Firecracker Golf Tournament, the children's fishing tournament, the cornhole tournament, the volleyball tournament and the ladder golf tournament, can be pre-registered for at the Royal Palm Beach Recreation Center. The tournaments at Commons Park can be registered for the day of the event. To learn more, call the Recreation Center at (561) 790-5124 or visit www.royalpalmbeach.com.
"This is all a credit to the Royal Palm Beach Recreation Department," Morales said. "The entire department pulls together to put this event on. We do have volunteers in the community from high schools to seniors, and organizations that do volunteer, and without them, it is not possible."
ABOVE: Fireworks light up the sky over Royal Palm Beach Commons Park last year.