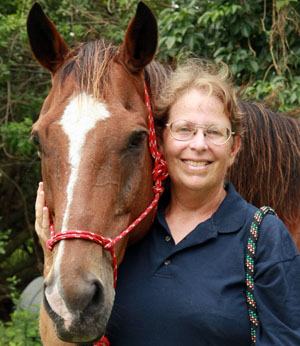 TAILS FROM THE TRAILS
It seems as if some barns spring up overnight, while others have been there as long as you can remember. La Petite Cheval is one of the latter.
Joan Krogmann and her family moved to the current location, 13678 14th Place North in Loxahatchee Groves, in 1994. Previously, she had taught at barns on New York's Long Island. She brought down her 11 favorite horses and kept going.
"My mother taught a lot of people about horses and riding for 60 years," recalled Joan's daughter, Kim Krogmann-Breier. "She is retired now, still living on the property with my dad. Her spinal osteoporosis makes it hard for her to get around, but she loves to come out when she can, with her walker, and watch the lessons and feed treats to the horses."
Kim, who started riding at age three and has shown horses her whole life, stepped into her mother's boots four years ago and now runs the five-acre farm, which holds a 12-stall barn, a flat ring and several jumping fields. They currently have a couple of boarders and about 30 students, both children and adults. It's nothing fancy. They don't offer a summer camp, but the students tend to stick with them for years and years.
"We have a lot of adults who either want to learn to ride or who rode as children and want to get back into the sport," Kim said. "They range in age from 4 to 64. Our school horses are easy-going and beginner-friendly. One example is Misty, a 29-year-old pony we've had for 18 years. She is positively saintly, worth her weight in diamonds. She's taught more people to ride than I can count. I wouldn't trade her for anything in the whole world."
La Petite Cheval does mostly pleasure riding and hunter/jumper.
"A lot of our students are whole families, mom and kids or siblings riding together. We go to the local schooling shows, and WEF, if anyone's interested in moving up," Kim said. "But mostly, we're a fun, relaxed family barn, not a high-pressure show barn. No one is ever pressed to do more or show or lease or buy a horse. There are a lot of show barns around. That's not us. This is the place students can just come out and ride and enjoy the experience. It's super quiet, peaceful and relaxing."
Kim stresses horsemanship, with all that entails: total care of the horse and understanding not only how to do things, but why doing them matters. Her other job is teaching biology at Wellington High School's equine science program, and she easily transfers her expertise at teaching to her students at the farm. "I'm very hands-on," she said. "My students learn the horsemanship skills necessary for keeping horses happy and healthy."
Kim is especially good at working with timid riders or special needs children.
"I teach them at their own pace. We have some autistic kids who ride with us. It's amazing to watch the mental and behavioral changes that occur while riding. It's inspiring to watch them blossom and open up," she said. "I believe a good, solid foundation, an independent seat and leg, has to be there before you move on to cantering and jumping. We do a lot of games and exercises, like red light, green light and cops and robbers, to help riders develop skills and put what the students have learned to the test. My focus is on the journey rather than the destination."
Julie Hunsicker signed on as barn manager six years ago.
"I love watching the kids come out to ride, seeing their first encounter with horses," she said. "It's magical. We have a great group of horses who can help fulfill their dreams. A few weeks back, we had one young rider who had always dreamed of showing. She won her class at Posse, and her mother stood and watched and cried. I love helping make their dreams come true."
The barn is proud of its laid-back atmosphere.
"Safety always comes first, and there's no drama, no arguing," Julie said. "There's a great camaraderie among our students. Even kids who aren't showing come out to root for their friends. It's a real team spirit, and having their friends there to support and help them is great."
She invites those interested in horses to visit La Petite Cheval.
"Our barn is a wonderful family business, where everyone feels like they're a family member," Julie said. "It's personal, and we tailor each lesson to the rider's needs, ability and preferences. Being around horses is calming. It can change your outlook and perceptions. I can't imagine a better place for kids to have fun learning how to ride."
For more information, call (561) 324-5177, or visit www.facebook.com/LaPetiteChevalFarm.