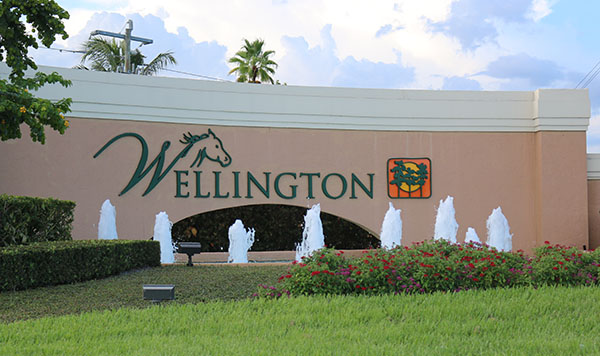 The topic of modernizing some of the iconic signs that let people know they're in Wellington was discussed at a recent workshop — part of an ongoing conversation, according to Wellington Project Director Mike O'Dell.
"What we're trying to do is update the signs," O'Dell told the Town-Crier. "There have been some conversations amongst the council members and some of the community members that the signage that we have has been around since the inception. Specifically, the ones at Forest Hill Blvd. at Stribling Way and the ones at Forest Hill Blvd. at Southern Blvd. They have been there since the inception of the community. We would like to update those a little bit, and take that design and carry that throughout the community."
The idea of updating the signs and their landscaping stems from a visioning meeting staff conducted with the Wellington Village Council earlier this year to visually enhance Wellington through signage, as well as fences and hedges along road rights of way.
Vice Mayor John McGovern noted that the large entrance signs in Wellington could use a refresher, to bring them up to par with the rest of the village.
Wellington, McGovern explained, has been maintaining the quality of its venues, sports fields and roads, and done so in a high-quality manner, but signage has been overlooked.
"We try to do it in a planned and phased way so those things are regularly being maintained and never fall into a pattern where we are behind the curve, and there's a risk that things fall into disrepair. And that has been a hallmark of the way the village has been run," McGovern said. "Signage has not been modernized and updated in the same way. It has been maintained, but that's all."
McGovern thinks signage is important to Wellington's image.
"It's certainly a good discussion, as we're talking about how to keep Wellington current and desirable, that we look at setting up a schedule, and a budgetary plan, for modernizing, updating and replacing village entry signs, both large and small," he said.
Some of the communities within Wellington are also asking for identification for their neighborhood, O'Dell said, noting that some of the neighborhoods do not have any identification.
"We'd like to get that sign program moving forward so we can give identities to those neighborhoods as well," O'Dell said.
For example, off Birkdale Drive, there is a community that is known by its street name, but it doesn't have an official name. Some communities have even less, whether it is a canal, or a right of way, or easement; the locations for communities will have to be customized as the signage updates are worked on. "We could provide some standardized signage, and then put the name of that particular community on the signage as well," O'Dell suggested.
Wellington wouldn't impose anything on homeowners' associations that already have signage, though if they'd like to update their signage to coincide with the palette created for Wellington, that would be possible.
"We could work with them if they chose to do that," O'Dell said.
If the council is interested in updating the signs, then staff members will conceptualize the idea. If the concepts are approved, they would move on to working drawings, bring the images to the community, and work on a long-term budget for signage and improvements.
"As development is happening around us, we need to make sure that on every level, we are maintaining the standards that our Wellington residents expect," McGovern said. "That includes large and small entry signs. Paying attention to that preserves property values in the long term."
Some communities have been proactive. For example, the White Pine/12th Fairway area, O'Dell said, approached staff, but doesn't have space for a sign. If sign updates occur, the village could work with the community to find a place for a sign to mark the neighborhood.
With fences and hedges in rights of ways and thoroughfares, some things, such as concrete walls without landscaping, are considered stark.
Community members have approached staff about changing the walls, some of which date back to pre-incorporation days, to make things greener and more consistent.
This primarily includes the areas along the village's main thoroughfares: Forest Hill Blvd., Greenview Shores Blvd., Wellington Trace, Big Blue Trace and South Shore Blvd.
"If we were to standardize the hedges that are along the rights of way, one of the things that [Village Manager Paul] Schofield has indicated to them is that if they want to do that, we would actually need to plant the hedge material within the road rights of way so we could maintain it," O'Dell said. "Right now, most of the hedges and fences that you see are on private property and within some form of easement area."
The planting could be an added-value item to the community, and funding might come from the money Wellington is receiving from the county's new sales surtax.
If this is something that the council wants to move forward with, it would go through the planning process, and could be implemented over the next five to 10 years.
"We need to provide the council with more details," O'Dell said. "If they like the details, we would actually provide them with a cost estimate to do the work over time."
At a recent workshop on capital improvements, Assistant Village Manager Jim Barnes provided council members with images of six different signs — three in Wellington and three others — asking them to rate them. The council chose various elements from the signs and told staff what they liked.
"Different components of different signs was the discussion that was had after they rated them. What this did for us is it has given us an idea to go back to the drawing board," O'Dell said. "We'll try to put something together that will make it more Wellington-looking."
From there, village staff will talk with design consultants to have mockups made.
ABOVE: Officials are discussing way to modernize Wellington's entrance signs, such as this one on Forest Hill Blvd.