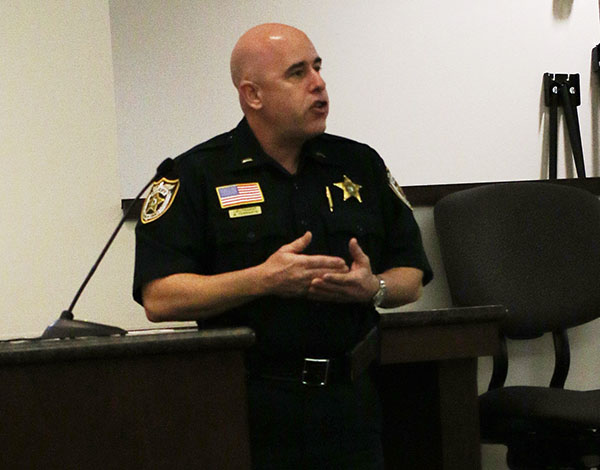 The Royal Palm Beach Village Council addressed comments regarding recent public safety concerns along Santiago Street in the La Mancha neighborhood at its meeting on Thursday, Dec. 21.
Santiago Street residents Michael Lewis and Les Fenn addressed the council on the issue during time for public comments. The item was not on the council's formal agenda.
Fenn suggested that recent crime issues could be the work of people who live nearby, explaining that at least two neighbors on the street take part in suspicious activity almost daily.
"I'm not in a position to accuse anybody, but there are two houses that constantly have cars pulling up to the doors; they wait there for a little while; somebody comes out; one hand goes in the car; one hand goes out the car; and then they drive off," Fenn said.
He said that he has witnessed other potential crimes as well.
"I recently came out at about midnight to take my dog out, and I saw what I thought was my neighbor standing out by the car," Fenn said. "It turns out it wasn't the neighbor; it was somebody actually breaking into the trunk of the vehicle, and I did not realize that until later when I actually spoke to a neighbor across the road."
Fenn told the council that one of the suspected homes has been raided by the Palm Beach County Sheriff's Office twice, adding that he has installed exterior surveillance cameras to his home to help monitor the suspicious activities on Santiago Street.
Lewis said there is video recording of reckless driving in La Mancha as well.
"We're part of the La Mancha group on Facebook, so everybody talks to each other," he said. "There was a gentleman; a lady stopped at a stop sign on Saturday, and somebody sped around her through the stop sign, going about 50 miles per hour. They got that on video."
Lewis also gave an account of the issue of a high volume of cars pulling into the same homes to visit neighbors for a few minutes before leaving.
"The issue that [Fenn] brought up about the houses on Santiago is ongoing," Lewis said. "I spend a lot of time at my house, so I see a lot of things. You obviously can't say what is going on, but you have a pretty good idea of what's going on."
PBSO Lt. Mike Ferrante was present during the meeting and helped the council address resident concerns regarding public safety on Santiago Street.
"Perception becomes reality sometimes," Ferrante said. "I can assure you we are in that neighborhood a lot."
Ferrante said that the PBSO is patrolling La Mancha, as it patrols all the neighborhoods in the village for public safety.
"This year alone, just in the La Mancha area, we do what is called residential checks," Ferrante said. "Our deputies will come into the area. They'll get on the radio. They'll say, show me residential check. It's GPS; it tracks them, and they'll be in that neighborhood anywhere from five minutes to 20 minutes because La Mancha is huge. There are 1,544 homes in there."
Ferrante shared statistics recorded in the past year from residential checks in La Mancha.
"We recorded 2,911 individual residential checks. That averages about eight a day, so they're in there a lot," Ferrante said. "As far as traffic, we've conducted 436 traffic stops this year. So, they're in there doing traffic."
Mayor Fred Pinto asked Ferrante about a neighborhood watch meeting that is to be scheduled soon.
"We know it's going to be in January," Ferrante said. "I don't think a date has been put in stone yet. As soon as we get it, we'll get it out to you guys."
Lewis told the council there is a neighbor who tried to confront one of the neighbors who has had suspicious activity. He said that the neighbor who made the confrontation found the tires on his daughter's car slashed the next day.
Pinto warned against the decision to make confrontations when dealing with these kinds of issues in the neighborhood.
"[It's] not a good idea to confront," Pinto said. "That's what we have the police officers for. That's not a safe thing to do. We really don't recommend that anyone confront anyone. Go back to your safe place and make the phone call. Take information that you can take, but no one should be confronting anyone, because that could create a dangerous situation."
Ferrante emphasized the importance and usefulness that video recordings can bring to the PBSO.
"Just have patience. Video is the best thing you can ever do for us," Ferrante said. "Reporting is the best thing you can ever do. Don't ever be afraid [to report]. If you see vehicles in there, get tags. Your eyes are the best things for us. That way we can follow up on things."
Councilman Jeff Hmara carried the discussion further, mentioning other public forums with police officers in the community, focusing on what communication can bring to an issue or concern, such as the present concern in La Mancha.
Ferrante mentioned a "coffee with a cop" discussion that might be held once in a while, but he said the January neighborhood watch meeting should be the thing to address the present concerns.
"That's when we'll address all the issues and come up with some type of plan to address any concerns you have," Ferrante said.
Pinto assured the residents that their concerns will be addressed, stressing that strong law enforcement is important to the community.
"We understand the concern," Pinto said. "On an aggregate level, we don't have a lot of the problems here in this village that other cities have. But that doesn't mean anything when something happens to you or your family. It becomes personal, and it becomes something very real for you, as the lieutenant mentioned. We appreciate you coming out, and let's see what we can get working together to get this back on the right track here."