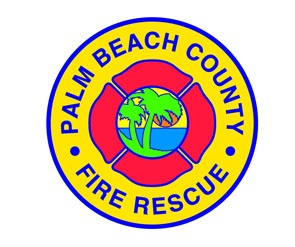 Palm Beach County Fire-Rescue District Chief William Rowley presented his agency's annual report to the Royal Palm Beach Village Council last week, updating village officials on fire-rescue issues in the community.
The report at the Thursday, Feb. 15 meeting included collected data and information gathered from October 2016 through September 2017.
Mayor Fred Pinto introduced Rowley by thanking PBCFR for making the community safer.
"I would like to acknowledge the fine work of Palm Beach County Fire-Rescue and the Palm Beach County Sheriff's Office for the village," he said. "These are our first responders, and we are dependent on them to help save lives. We appreciate the work that you all do. We do have a safe village because of both of you."
Rowley reported on the number of emergency calls within the Village of Royal Palm Beach last year. He broke down the calls into medical calls (3,115), vehicle accidents (392), water-related injuries (6), fires (79), hazardous materials/power lines (14), assists in investigations (230) and alarms (317), for a total of 4,153 calls.
"Our call volume over the year will stay pretty consistent in that the main call volume is medical calls," Rowley said. "The call volume data includes everything from hazardous materials to fires, which would include anything from car fires to structure fires and brush fires. Just by the roadways we have going through the village, between Okeechobee Blvd. and Southern Blvd. and our north/south routes, we responded to 392 car accidents. Those numbers are pretty much going to stay consistent."
Rowley pointed out that on average, it's a six-minute call to respond within the Village of Royal Palm Beach. The distance is important, and with so many stations nearby from surrounding municipalities, different Palm Beach County Fire-Rescue stations all work together.
"A lot of these calls benefit from the depth of service that is provided by Palm Beach County Fire-Rescue because we are pulling from Station 21 to our west and Wellington's stations 25 and 20, as well as Station 26, and those stations are all coming in to provide service to the village with our own units when we are on other calls within the village. That is one of the significant benefits," he said.
Ongoing issues, such as auto accidents on Southern Blvd., stay consistent throughout the year.
"We don't get that snowbird rush anymore that we used to get years ago," Rowley said. "Our residents are pretty much staying here all year. You don't see the ups and downs throughout the year of the car accidents like you used to see years ago."
Each structure fire response calls for a minimum deployment of three fire engines, two rescue units, an aerial truck, an EMS captain and a battalion chief. These personnel are needed to perform all of the critical tasks necessary to rescue human life, minimize fire loss and maintain personnel safety.
"In our two stations in Royal Palm Beach, we have one engine and one aerial truck," Rowley said. "For a structure fire alone, we are providing three engines, two rescues, an EMS captain and a battalion chief, and we are getting aid from the adjoining stations."
Rowley noted that the Village of Royal Palm Beach is predominantly covered by Stations 28 and 29. Station 28 is located at 1040 Royal Palm Beach Blvd, and Station 29 is at 10055 Belvedere Road. Both stations are staffed around the clock, and both have six firefighters assigned to them.
Station 28 is the battalion headquarters and also has the command staff, consisting of the district chief, who oversees all operational activity, and two 24-hour supervisors. Additionally, there is a wild land/brush vehicle housed at Station 28. This unit is cross-staffed with the engine crew and is utilized for brush fires and for areas fire engines cannot access. Royal Palm Beach is part of the PBCFR regional response system, and the other fire stations, personnel and emergency equipment respond as needed, based on call type and needs.
Station 28 includes a 2017 fire engine, 2010 transport rescue unit, 2012 4×4 wildland fire apparatus, 2017 district chief command vehicle, 2017 battalion chief command vehicle and 2008 EMS captain command vehicle. All firefighting vehicles meet current National Fire Protection Association specifications.
"If you look at the units we have assigned at Station 28, we just got in a new vehicle unit and a battalion chief vehicle, and we have a unit getting outfitted, and that one will be a new unit," Rowley said.
Station 29 includes a 2010 aerial fire engine and a 2006 transport rescue unit. "Both of the trucks are in excellent condition. It's important that we have an aerial truck, because it's a regional asset, and having one here in the village, it's more readily available," Rowley said. "It is covering all the area around us. It's really nice to have it here."
He added that PBCFR also helps out at all special events within Royal Palm Beach.
"We try to have a truck unit standing by at every activity within the village," he said. "Fire-Rescue has participated in numerous community activities in Royal Palm Beach, including Royal Palm Beach West Fest, the Fall Festival, Winter Fest, the Veterans Day ceremony, Memorial Day and the Royal Palm Beach High School homecoming parade. Palm Beach County Fire-Rescue is always eager to be a part of community-based activities and events."
In 2017, the Community Assistance Team (CAT) was redesigned into the CARES Team, which stands for Comfort, Assistance, Resources, Evaluation and Safety Net. These actions are the mission of this all-volunteer team that is now recruiting medical and human services professionals to provide emotional first aid on the scene of high-intensity 911 calls.
"They have rebranded it the CARES Team, and they have expanded the types of services they are providing. What we are seeing is that they are going out by referrals from the units or by statistics from addresses from call volumes and providing assistance to those with fall prevention," Rowley said. "If we have someone with repeated falls, they will go out and assist with advice with installing grab rails and education for fall prevention. They will go out for immediate grief counseling after structural fires. Structural fires are extremely traumatic to individuals. You see your personal belongings gone in a matter of minutes. The CARES Team assists with what they can do, who to contact and how to help them through that process."
Continuing education programs are conducted throughout the year for PBCFR personnel. Each employee receives more than 100 hours of training annually. This year, the training included: pediatric advanced life support, advanced cardiac life support, basic trauma life support, medical documentation, wildland firefighting, WMD training, self-contained breathing apparatus, smoke drills, map and area familiarization training, water rescue, extrication/heavy extrication, high-rise firefighting and thermal imaging techniques.
"Units are being rotated into our headquarters, and we do burns in the burn building for initial response training," Rowley said. "They will respond just like any building or structure on fire and pull in the lines and set up commands with multiple units. We will have six units at a time from around Palm Beach County. The nice part about what we are doing is that we are pulling adjoining stations… We are allowing them to train together, and we are pulling units from the south end of Palm Beach County to come up. We want that valuable training of working together when, most likely, these are the crews who will be working together on fires."
PBCFR also provides fire and safety inspections in buildings. The agency did a total of 1,090 of those inspections on businesses and residential inspections within Royal Palm Beach last year. PBCFR's Bureau of Safety Services conducts safety and fire inspections annually on commercial and multi-family buildings. The purpose of these inspections is to increase fire safety and assure compliance with the local fire code. Additionally, multi-family residential inspections are completed by the station personnel as part of the residential/company inspection program.
Finally, Rowley spoke about the car seat installation program going on at the fire stations and throughout Royal Palm Beach. This past fiscal year, 206 community education programs were conducted in the Village of Royal Palm Beach. These programs brought fire safety and education training to 38,808 individuals, which resulted in a total of 35,181 contact hours.
Rowley concluded his presentation by inviting people to become PBCFR volunteers. "We want to encourage people to come and be a part of it," he said.
To become a participant in the CARES Team, call (561) 616-7000.