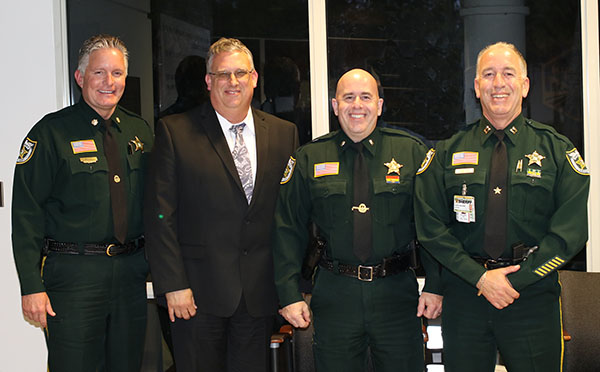 Palm Beach County Sheriff's Office Capt. Ulrich "Rick" Naujoks, commander of the PBSO's District 9 substation in Royal Palm Beach, gave his annual report to the Royal Palm Beach Village Council on Thursday, April 19.
"As they always have, the dedicated men and women of District 9 have continued to exhibit professionalism, hard work and dedication to ensure the safety of the residents, visitors and business owners in the Village of Royal Palm Beach," Naujoks said.
The number of calls for service by PBSO District 9 last year was down 847 calls from 2016 to a total of 76,714, representing a decrease of four percent.
Residential burglary incidents decreased 21 percent from the previous year, and over the past five years they went down by 66 percent. There were 261 vehicle burglaries with 94 cases cleared by arrest (36.01 percent). The method of entry included: 194 unsecured, unlocked cars (74.33 percent) and 67 other entry types (25.67 percent).
During 2017, in the village, there were 189 arrests, 353 traffic stops, 90 citations, 107 warnings, 284 field interview reports (FIRs) and 10 search warrants were executed, with the department assisting with five others.
Naujoks reported that the Citizen Observer Patrol (COP) Unit provided 6,379 volunteer hours, and the PBSO District 9 Volunteer of the Year was Lt. Theophillus Willie. There are 16 active members of the patrol, who have driven a total of 24,461 miles, aided 10 disabled motorists and assisted at 29 accidents.
The COPs patrolled village parks 1,659 times, conducted 154,881 business location checks and wrote 95 handicap citations. The value of the hours volunteered at minimum wage equals $51,670.
District 9 supported fingerprinting services and processed 391 requests at the District 9 lobby. PBSO has bicycle-equipped deputies who provided 553 patrol hours. Deputies apprehended and returned 233 truants and spent 25 hours of marine patrol in the village.
Deputies also received 3,327 hours of specialized training, which included 1,650 hours of in-service training and 1,677 hours in specialized courses, which equaled an average of 59.41 hours per employee.
Also at last week's meeting, Mayor Fred Pinto read an Arbor Day proclamation commemorating the 27th consecutive year that Royal Palm Beach has set aside a day for planting trees. "It is a good day for the village," Pinto said.
The proclamation reminds that trees can reduce the erosion of topsoil by wind and water, cut heating and cooling costs, clear the air, produce oxygen and provide habitat for wildlife. Trees are a renewable resource that gives us paper, wood for homes, raise property values and enhance the economic vitality of the business areas and beautify the community.
"This is the 27th consecutive year that the Village of Royal Palm Beach has been recognized as a Tree City USA by the National Arbor Day Foundation," Pinto said. "In the Village of Royal Palm Beach, I urge all citizens to support efforts to cure and care for our trees and woodlands and support our village's community forestry program. Further, I urge all citizens to plant trees to gladden the hearts and promote the well-being of our future generations."