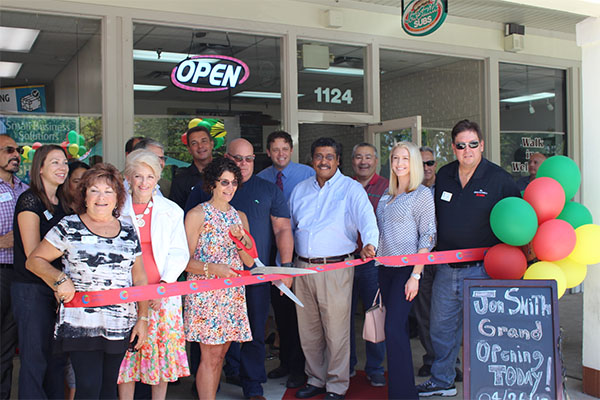 South Florida's original home of fresh-grilled premium steak, chicken and other premium subs blazed a new trail when Jon Smith Subs franchise owner Dan Fahy re-opened his Royal Palm Beach location on Thursday, April 26.
The Jon Smith Subs location at 1124 Royal Palm Beach Blvd. made its sizzling debut in Royal Palm Beach with freshly prepared, generously portioned hot subs and award-winning crispy fries that have made the Jon Smith Subs' name famous for close to 30 years.
"We are excited to be part of this growing, fast-casual concept. As part of the Royal Palm Beach community, I know that the people from this community are excited for our re-opening, where we have fresh and high-quality subs," Fahy explained. "The food truly stands apart from other sub shops with its quality and consistency, and the guest experience is second to none. We are excited to officially re-open our doors to reveal our newly remodeled look and to continue serving to the Royal Palm Beach community."
The Royal Palm Beach Jon Smith Subs re-grand opening celebration included coupons for free subs, fries and drinks. The first 25 guests in line received free 6-inch subs of their choice for a year.
Royal Palm Beach's newly remodeled Jon Smith Subs restaurant will continue to operate from Monday through Thursday from 10:30 a.m. to 9 p.m., Friday and Saturday from 10:30 a.m. to 10 p.m., and Sunday from 11 a.m. to 9 p.m.
Jon Smith, the company's namesake, founded the sub restaurant in 1988. He has been described as an adventurer, seeking thrills of every sort. He has been an avid motorcyclist, a small airplane pilot, a horse trainer, a race car champion and a star in his own band, while also launching several successful businesses.
The same adventurous passion he has for life has translated itself into Jon Smith Subs and his "thrill for the grill." The casual dining, fast, table-service concept offers high-quality sub sandwiches prepared with fresh ingredients and boasts consistently superior taste, visit after visit. Learn more at www.jonsmithsubs.com.