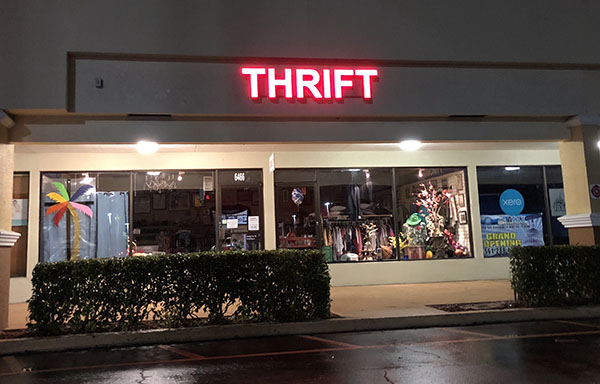 Local thrift store aficionados have a new, hidden gem in Lake Worth Plaza to explore. Enough For All Thrift Store offers a fun blend of merchandise — all donated and all offered for sale at very reasonable prices. Plus, customers can feel good about even the small amount they spend, because every penny taken in goes to support community efforts, including a food pantry that serves up to 2,000 people per month.
A nonprofit enterprise of the Metropolitan Community Church of the Palm Beaches on Northlake Blvd. in Palm Beach Gardens, Enough For All Thrift Store is so named because the group believes that everyone deserves the right to live with enough to bring them dignity and purpose.
The entire staff of the store is made up of volunteers.
"Everyone in our store is a volunteer, and everything in the store is a donation," said Lake Worth resident and manager Alice McCullagh. "My passion is to see this store grow into a lasting fundraiser for the work of the church and the wonderful message of inclusiveness and love that should be heard by all people. We, the members and volunteers of MCCPB, are united in this belief."
While open since last Christmas season, the thrift store's permanent sign just went up a few weeks ago to announce to area customers that the store is open for business.
"We raise money to support efforts in our community that go along with our core values of social justice, spiritual growth, diversity and community," said McCullagh, who explained that some of the church's endeavors are the thriving food pantry and partnering with Family Promise on an outstanding program that houses and provides mentoring for families that are homeless, until they are housed, fully employed and equipped to thrive. "Our church supplies room for 12-step groups and has many programs on a nightly basis for gatherings to support our belief in community, and we are dedicated to studying and discussing the horrific reality of racism in the U.S. today and what we are called to do about it as followers of Christ."
McCullagh invites everyone to come visit the new thrift store. "We would love to meet you," she said.
Enough For All Thrift Store is open Tuesday through Saturday from 10 a.m. until 7 p.m. It is located in the Lake Worth Plaza Shopping Center at 6466-68 Lake Worth Road at the southeast corner of Jog Road and Lake Worth Road, just to the right of Marshalls. For more information, call (561) 660-8763. Follow the store on Facebook at www.facebook.com/efathrift.