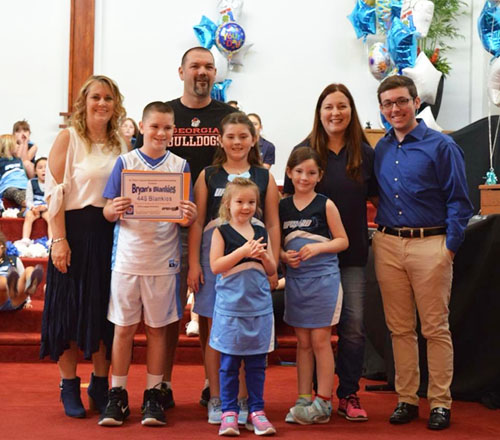 St. Peter's United Methodist Church Upward Basketball and Cheerleading recently partnered with the First Priority Club at Wellington Landings Middle School to donate more than 500 blankets to Bryan's Blankies.
Bryan's Blankies is a charitable organization that collects new and homemade blankets for children who are patients at hospitals in Georgia and Florida. The "blankies" were delivered to children in eight Palm Beach County pediatric hospitals for Easter.
Eleven years ago, Scott and Jenny Holland's infant son, Bryan, spent eight days in a Georgia hospital. While there, the Hollands noticed that many children were without parents and only had a case worker. Deciding to "pay it forward," each Christmas they've delivered new and homemade blankets to pediatric hospitals in Georgia and Florida.
Bryan's Blankies usually are distributed during the Christmas season. Since Upward begins after Christmas, the Holland family agreed to extend their blanket delivery to Easter.
Upward offers families the opportunity to participate in a Christ-centered basketball and cheerleading league and also offers families an opportunity to help with a mission project each season. This season's mission was Bryan's Blankies.
This year, the First Priority Club at Wellington Landings joined the cause and collected more than 50 blankets. WLMS teacher Robin Stern and Samantha Scott, St. Peter's youth director, brought the idea to the group. The student-led club decided to partner with Upward in order to help provide emotional support to other children.
For more info., find "Bryan's Blankies" on Facebook.