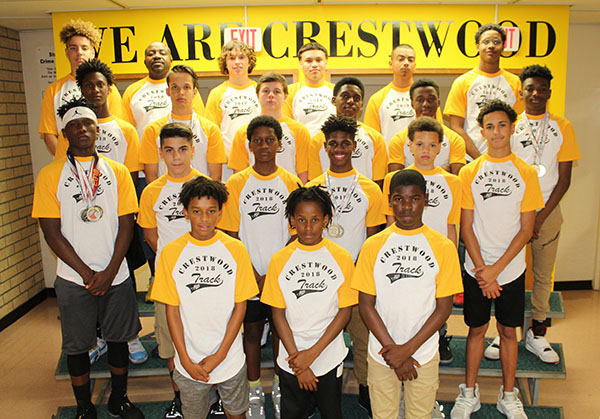 Crestwood Middle School walked into Park Vista High School in a position they had never been before. Coach Marque Drummond's Crestwood Eagles had not qualified any athlete in the field events, so after day one, the team was not even in the running.
"It was a different feeling not having any points walking in the gate in which to build up on, but all season, I stressed the importance of everyone doing their jobs," Drummond said.
Things were about to change quickly. The first scoring opportunity came with Dejuan Tolbert winning his heat and placing sixth overall in the 110-meter hurdles. Things picked up even more when Issac Nye commandingly won the mile run, breaking the school's record in a time of 4:53. The 400-meter relay team of Aldorson Estinvil, Jacob Acosta, Kamar Mack and Tolbert tried to close the gap but finished in ninth place, just outside of the scoring range.
Nye took to the track again with his teammate Ahmad Haston for the 800-meter run. Nye secured another school record win, with Haston finishing in seventh place. Nye's winning time was 2:12. The next race, the 800 medley relay, found the quartet of Estinvil, Acosta, Tolbert and Kentavious Hatcher running through the line in second place with a scintillating run by Hatcher on the last leg.
Before the last race of the meet, the Eagles were in third place and needed more points to move up to second place — the runner-up spot was in their reach. "I gathered the group together and told them how proud I was of them and how they were producing in the meet," Drummond said. "I told them that this was their last race as eighth graders and to go out with a bang."
Ivan Madera started the race and came around the oval in the top three position. He handed the baton off to Kamar Mack, who ran straight to the second position, where the last two legs held on to finish the race. In the end, the Crestwood team placed high enough to move into overall second place. "I am so proud of them," Drummond said. "It was great to see them respond. They worked really hard all season, and they deserved that trophy."