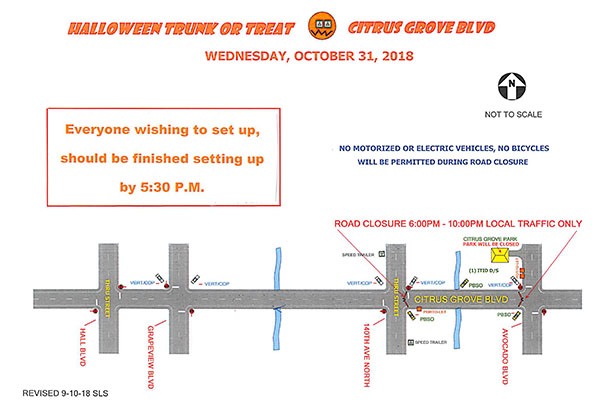 The annual Halloween trunk-or-treat event on Citrus Grove Blvd. in The Acreage has grown from a local street-side happening to a major event that attracts many families from surrounding areas.
The growing size of the event — to be held this year on Wednesday, Oct. 31 from 6 to 10 p.m. — has drawn concern from the Indian Trail Improvement District and the Palm Beach County Sheriff's Office.
Although the event is not sponsored by ITID, growing interest from people outside the area for an event originally intended for local families has prompted the ITID Board of Supervisors and the PBSO to take action to ensure a safe evening.
The agencies have agreed to beef up patrols this year and set up portable restrooms for participants, who have been known to knock on doors of residents asking for use of their private facilities.
Kids on bicycles, which presented a hazard to trunk-or-treaters and their guardians, will be prohibited from riding around during the hours of the event. The canal banks will also be patrolled to prevent bicyclists and ATV users from crossing over into the trunk-or-treat area.
ITID Manager Rob Robinson said plans include an increased police presence, mainly to control unauthorized vehicles during the event, which spans Citrus Grove Blvd. from Avocado Blvd. to 140th Avenue North.
"The road closure is going to be from 6 to 10 p.m., local traffic only," Robinson said. "That means, if a resident comes in and needs to get into their driveway, they're going to have to show ID. We're shutting it down to everything but walking traffic. So, if you need to get in there, you need to get in there before 6 p.m."
He added that trunk-or-treat vehicles will be allowed to leave, but will not be able to get back in.
Robinson added that speed trailers will be put up outside the area to help control traffic as drivers approach the event. PBSO volunteer units will also provide traffic control as far away as Grapeview Blvd.
Barricades and portable restrooms will be set up, and three contract deputies will be on duty, Robinson said.
"They're going to be stationing a deputy by the canal crossings, so nobody can sneak in through the canals and up the canal banks to get into the area that's shut down," he said. "They're going to have radios, so they can communicate."
At ITID's September meeting, PBSO Sgt. Neil Wilson, who led the policing effort last year, said he had four deputies, including himself, as well as several PBSO volunteers working the event.
"We blocked off Avocado [Blvd.] all the way to Grapeview [Blvd.]," Wilson said. "That's a one-mile stretch. We had a lot of people just west of that coming across, so I put a couple of people out there to help cross, because you've got some through streets there, but we weren't really policing that area, and we didn't have much trouble."
Wilson said his only concern is that there might be more people this year because he had many people come up to him thanking him for making the event safer.
This year, he recommended prohibiting vehicles except those participating, including ATVs, golf carts and bicycles. This stems from complaints about teenagers on bicycles doing wheelies. "There were quite a few complaints about that, and we tried to remove a lot of the teenagers," he said. "They weren't trick-or-treating. They were just riding around terrorizing people."
Wilson said other issues were parking in the swales and the lack of restroom facilities.
"I know you guys aren't hosting or sponsoring it, but a lot of people wanted to use the facilities [at Citrus Grove Park], and it was locked. We had to keep them out of the park for the most part," he said.
ITID President Betty Argue said she did not understand why Citrus Grove Park could not be opened to allow parking and use of the restrooms, but Supervisor Jennifer Hager said the trunk-or-treat event was originally a local event for residents.
"Once upon a time, it was everybody on Citrus Grove doing what Citrus Grove does, and then everybody started coming along, and it got bigger," Hager said. "If you start doing what you're doing… it has a propensity to become even bigger. It feels to me like it's an imposition on the residents."
Robinson said that several portable bathrooms will be installed this year to ease the restroom situation. He attended the event last year, and residents were supportive, but asked that some portable restrooms be put in. He added that ITID staff will pick up trash immediately after the event.
After more discussion, the board decided not to open the park restrooms or parking lot, mainly due to liability concerns.
Wilson said deputies and volunteers will be on hand starting at 5 p.m. to allow participating vehicles entry to set up at the park. All setup will need to be done by 5:30 p.m.
"Past the park, the residents just set up on their driveways, but if you go up to the park, some of these displays are big, they're impressive, and we can't restrict them from coming in with their vehicle to load and unload," Wilson said.