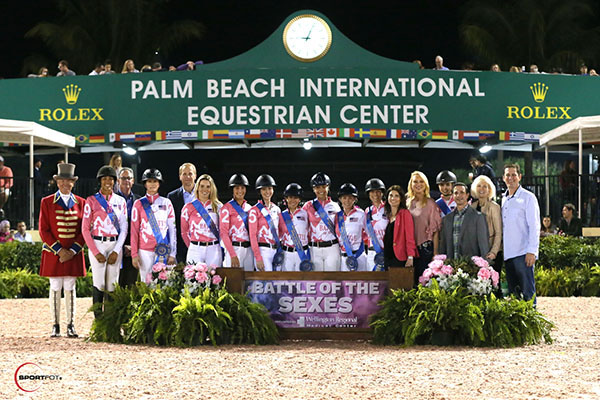 The first week of the 2019 Winter Equestrian Festival was highlighted Saturday, Jan. 12 when the women's team was victorious in the $75,000 Battle of the Sexes, presented by Wellington Regional Medical Center.
After suffering their first loss in 10 years in 2018, the women's team stormed back to dominate the $75,000 Battle of the Sexes in 2019 by winning 29 points to the men's team's 11 total points. The competition ended after just five of the 10 match races were completed when it was clear the men couldn't garner enough points to take victory.
In the opening speed round, the women and men tied with five points each. The fastest speed round of the night went to Jessica Mendoza, who recorded a time of 51.258 seconds to win her round over Daniel Coyle.
This was Mendoza's second time competing in Battle of the Sexes. "It's very fun," she said. "I think we're very competitive, and it's really cool. I just went as fast as I could!"
The women took over in the second phase, the relay. They won all three relays, picking up 15 points to increase their total to 20 points, while the men remained at five points. While the men showed an early glimmer by winning the first two match races with David Blake and Andrew Bourns, three subsequent victories by Carly Anthony, K.C. Van Aarem and Sydney Shulman sealed the overall win for the women.
Team captain Nicole Bellissimo, participating in her seventh Battle of the Sexes and third as captain, was ecstatic with the win. She was joined by teammates Mendoza, Anthony, Van Aarem, Shulman, Abigail McArdle, Taylor Land, Amanda Derbyshire, Maggie Jayne and Kristen Vanderveen.
The men's team was captained by Charlie Jayne and included Coyle, Blake, Bourns, Alex Granato, Darragh Kenny, Michael Tokaruk, Andrew Welles, Spencer Smith and Andy Kocher.
"It was really nice; a lot of us didn't have to jump again, so it was nice having it in the bag so early," said Bellissimo of the early finish to the match races portion. "I think the match race is so exciting and can change so quickly. It's really fun for the rider and the crowd."
Bellissimo believes that the Battle of the Sexes is the perfect way to kick off the Saturday Night Lights series and the Winter Equestrian Festival.
"It's such a nice way to start off WEF," she said. "It gets everyone really pumped, and it's really fun. WEF gets very intense, very quickly, so it's a fun way to remember why we're all doing this. We enjoy the crowd and enjoy our horses, and it's just a really fun night."
WEF continues with 12 consecutive weeks of world-class competition through March 31. For more information, visit www.pbiec.com.