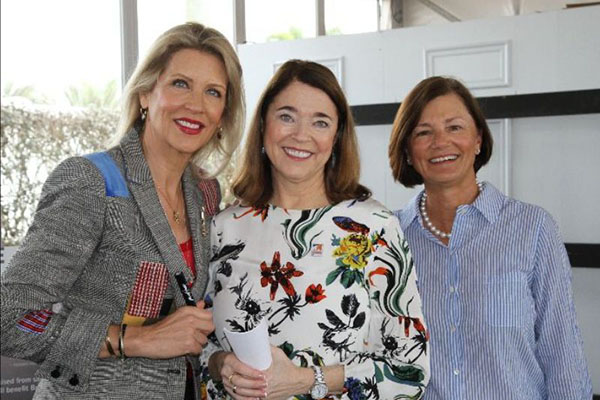 Equestrians and horse lovers took a break from the action to learn about Brooke USA at a Lunch & Learn held Thursday, Feb. 28 at the Palm Beach International Equestrian Center. The event drew the largest attendance of the Lunch & Learn series to date this season.
Brooke USA Executive Director Emily Dulin gave a presentation and overview of the work Brooke USA funds to help working horses, donkeys and mules, and the people they serve, throughout the developing world. She described the work of 100 million animals who serve 600 million families in the poorest communities in the world, where Brooke USA focuses its efforts.
"We call them the invisible workers," said Dulin about equines in the developing world. "They work moving goods for families, they work in places where there is no access for vehicles, they work in the timber and coal mining industries alongside their owners, and the brick kilns of India and Pakistan. Their work is dangerous and arduous. Their owners need their help for survival, and it is our mission to help them, both humans and animals."
Another speaker was Brooke USA ambassador and bestselling author Mary Alice Monroe who talked about her upcoming book, The Summer Guests, scheduled to be published by Simon & Schuster in June. The book is based on actual events when a group of horse people converged on a farm in Campobello, S.C., to escape Hurricane Irma. Cindy Boyle, a Brooke USA supporter who introduced Monroe at the event, was the real-life host for the hurricane evacuees.
Celebrity makeup artist Leslie Munsell also inspired one of the characters in Monroe's upcoming book. The founder of Beauty for Real cosmetics also attended the Lunch & Learn event and demonstrated her Beauty for Real line to guests. A portion of the proceeds from the sale of her products was donated to Brooke USA.
Brooke USA Development Officer Kendall Bierer kicked off Brooke USA's Paint Wellington Orange, an awareness and fundraising initiative geared at engaging the community with the organization. Local businesses, including California Pizza Kitchen, Don Chepo's, Pilates Core Arena and more are donating a portion of their proceeds to Brooke USA. Eye Gee Designs, Everything Equestrian and AmTrust are also supporting Paint Wellington Orange.
Paint Wellington Orange leads up to the signature event, Brooke USA's Sunset Polo and White Party on Friday, March 22 at the Wanderers Club in Wellington. The not-to-be-missed event sets an idyllic scene with white cabanas overlooking the tournament-sized polo field and festive lit pool. As the sun sets, the exhibition polo match begins, followed by a gourmet meal and celebrity entertainment.
"We are so pleased with the wonderful turnout for the Brooke USA Lunch & Learn," Dulin said. "It was a great event, and we look forward to seeing everyone at our signature event, Brooke USA's Sunset Polo and White Party."
With more than 1,000 people in attendance each year, the event has raised $1.2 million to benefit Brooke USA, directly improving the welfare of working horses, donkeys and mules and the people they serve. Learn more at www.BrookeUSA.org.