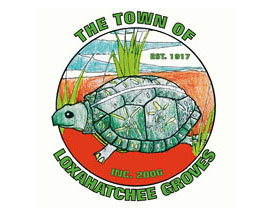 Planning Consultant Jim Fleischmann reviewed several items last week that will be coming before the newly configured Loxahatchee Groves Town Council in the near future, including development applications requesting to add retail uses to an existing application for office space, and another requesting commercial use near but not directly on Southern Blvd.
At the April 2 meeting, Fleischmann said Seth Brier is proposing land use and zoning amendments to his property on the east side of B Road across from Palm Beach State College. The second request is for land use/zoning amendments and site plan approval for the Southern Crossing property located south of Tangerine Drive between Loxahatchee Avenue and E Road, immediately west of the park.
"That property currently has approval for an office development, and they're proposing to change that to retail," he said.
The third item Fleischmann discussed was revisions being considered to the town's vegetation removal rules.
"The Unified Land Development Committee has been working on that for several months, and it was presented to the council at the meeting in February," Fleischmann said. "It was approved on first reading by the council, subject to six items that needed to be readdressed."
Fleischmann added that the previous council gave the ULDC a list of code sections to review. Next on the list is a review of the town's lighting and sign codes, as well as floor-area-ratio (FAR) regulations, focusing on the Southern Blvd. corridor, oriented to increasing the scale of commercial development there.
Fleischmann said that he also anticipates clearing and development applications for the Aldi/Wawa/Chase component of the Groves Town Center project.
"We're in the process of going over the plat and the declaration of covenants and restrictions as we speak, and as soon as those are resolved, we expect more development-related permits to be coming in shortly," he said.
Also, Fleischmann said that Community of Hope Church at the corner of Okeechobee Blvd. and E Road, which came before the council last year, has withdrawn its applications.
Councilwoman Phillis Maniglia asked about the Southern Crossing request for an amendment.
"It was supposed to be offices, and now they want to do retail?" she asked. "What concerns me is what kind of retail?"
Fleischman said the site plan he had seen to date has four small retail buildings without any specific tenants identified.
"This is where we can make a difference," Maniglia said. "There's folks who live on that road. So, it started out office space, all professionals. Now we're talking about maybe a strip mall. Southern Blvd. is the face of our town, and we have a huge issue right now with the [Palms West Plaza]."
Other council members reacted negatively to the proposal for a change from office to retail, but Fleischmann said that is what would be coming before them.
"That's what the application is going to be, and I'm certainly not going to give any staff review right now," Fleischmann said.
Mayor Pro Temp Dave DeMarois asked what stage the applicant is in, and Fleischmann said they had submitted a land use plan amendment, a zoning amendment and site plan.
"[There were] a couple of initial comments on it, and they have taken it back to address those comments," he said, adding that the request will come before the board soon.
DeMarois asked what the council's options are, and Town Attorney Michael Cirullo said the comp plan amendments will come to the council for setting policy.
"You have some discretion in policy setting, so you have some discretion in what to do with the comp plan," Cirullo said, adding that the council should not pre-judge the project.
Fleischmann added that the council will hear the application first as the Local Planning Agency, explaining that the previous council had reorganized the approval process, taking the responsibility of the Local Planning Agency from the Planning & Zoning Committee.
"There'll be signs posted on the site 10 days prior to the LPA meeting, and there'll be notices mailed out to residents within 1,000 feet," Fleischmann said.
Planning & Zoning Committee Chair Dennis Lipp said he was on the committee when that application first came through.
"Back then, we called it the dueling banks because it had places for two banks on that one piece of property. Now, they're looking at some kind of retail."
Lipp pointed out that if the Southern Crossing amendment is approved, other properties nearby will want the same thing.
"Whatever is in between there is going to come back saying the same thing, and blip batta boom, we look like Military Trail," said Lipp, a former member of the council. "That's not what any of us who sat up there first, who went to Tallahassee for two years to get this town incorporated, had in any of our visions."
Lipp pointed out that retail will generate more traffic, and there is no direct access to Southern Blvd. from that property, so traffic would be directed to Tangerine Drive, which is bounded by a residential neighborhood to the north.
Lisa Cruz of Tangerine Drive said she lives in the area of the property looking for a land use change.
"I've already spoken, written a letter and talked to [the Florida Department of Transportation] about what's going on in front of my home where the pond is going," Cruz said. "If you guys put more buildings on the other end, which is still right there by my house, the cops will have to sit in my house because that's where all the crime is going to be. There has to be something done to protect my neighborhood."
The council took no action, other than to hear Fleischmann's report, which was intended primarily to bring new council members up to date.