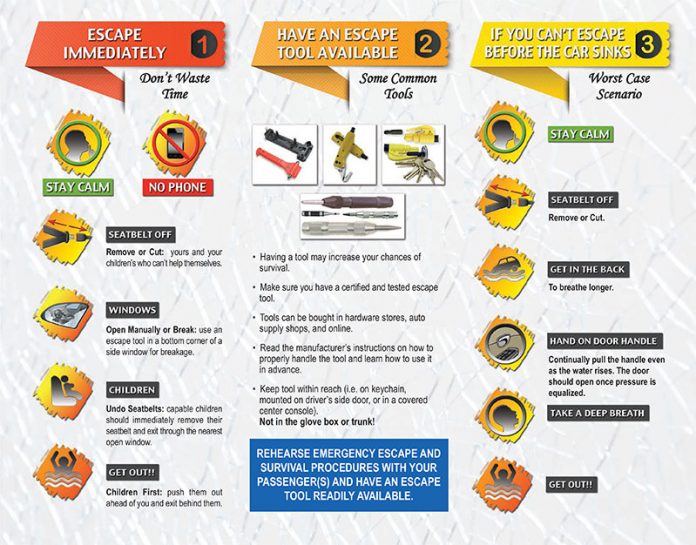 Anna Stewart, manager of the Drowning Prevention Coalition of Palm Beach County, visited Wellington's Public Safety Committee on Wednesday, June 26 to explain how her agency works to fight a major health and safety hazard that claims too many lives each year.
The Drowning Prevention Coalition is a county government agency funded by the Palm Beach County Board of County Commissioners and the Children's Services Council of Palm Beach County.
"We are an organization of two people that services all of the 1.5 million people in Palm Beach County," Stewart explained. "We are housed and managed by Palm Beach County Fire-Rescue."
In her job, Stewart helps lead programs aimed at making water safety a priority.
"Our job is to go out and educate the public on the importance of water safety and drowning prevention," she said. "This is a public safety issue. Drowning can happen to everybody, regardless of age, race, gender or socio-economic background. It just so happens that seniors have the highest drowning rate based on population in Palm Beach County, followed by children ages one through four."
According to Stewart, seniors are the most likely drowning victims in Palm Beach County because they can often find themselves alone in or near a body of water, either outside such as a lake or pool, or indoors such as the bathtub or shower. If they end up having some kind of medical emergency, there is no one there to help them. It only takes two inches of water to drown because it only takes covering your mouth and nose with the water.
"We educate the public by doing free land-based water safety presentations," Stewart said. "We speak to audiences of all ages. My coordinator does all of the children's programming. I do all of the adult programming. We attend health and safety fairs almost every weekend, handing out drowning prevention information."
Aside from seniors, Stewart urged water safety programs for all young children.
"Right now, we have a reduced-cost swim program for children ages two through 12 who meet certain qualifications," she said. "The Wellington Aquatics Center does participate in this program, along with 15 other aquatic facilities. We have given out over 3,100 vouchers to individual children for swimming lessons."
According to the Drowning Prevention Coalition, if a child is drowning, the coalition recommends "reach, throw, don't go." Before you take a rescue action, call 911 for help. Only reach for the drowning victim, don't jump into the water to rescue a person or pet in distress.
Reach while lying on your stomach to avoid being pulled into the water, and if possible, reach with an elongated item like a flotation object that the anxious person can take hold of and be pulled out of the water. "Don't go" means do not attempt to rescue someone by jumping into the water. A panicked person or pet can cause you to be in danger as they attempt to use you as a flotation device to save themselves.
If you are an adult, capable of saving yourself without a flotation device in a body of water, and the distressed person or pet is not conscious, do not jump in unless you have a flotation device in your possession.
While drowning in bathtubs, pools or the ocean are more well-known, there is another common drowning situation here in Palm Beach County.
"The third leading cause of drowning in this county are cars going into canals and people drowning," Stewart said. "This is a big issue. We also want to educate the public on this subject. That's what we are here for, to spread the word about drowning. It is preventable."
If you are trapped in a car, you have one minute to escape the car, according to Drowning Prevention Coalition literature. Electronic windows may work for a brief time, so open them as quickly as possible. Stay calm, remove or cut your seat belt. Push children out before you. Don't take anything heavy or unnecessary with you.
If you find that you are trapped in the car, go to the rear so you can breathe longer. Keep your hand on the car door, as the door should open when the pressure in the car is equalized. Having an escape tool is recommended. For a free brochure on surviving a sinking vehicle, visit http://discover.pbcgov.org/drowningprevention/PDF/Car_Canal_Brochure.pdf.
"Our job is to get the word out to Wellington residents about this lifesaving issue. I am hoping you can help me with this," Stewart told the committee. "I would like for you to become water safety advocates. I want you to tell everybody you know that there is a Drowning Prevention Coalition in Palm Beach County that will come to your HOA or club, or any group that may benefit."
More information can be found online at www.pbcgov.com/drowningprevention.
In other business:
• The Public Safety Committee chose Michael Well to serve as chair over the next year and Ron Herman to serve as vice chair.
• The Palm Beach County Sheriff's Office submitted nominations for Wellington's annual Top Cop Award. The three nominees were: Deputy Jennifer Baker, Deputy Ricardo Condero and Deputy Ashley Carseni. Baker was chosen for the honor. Baker has been employed by the PBSO for 15 years. She is known for her work with juveniles and developing a rapport with the residents of the community.
• Palm Beach County Fire-Rescue nominated three recipients for Wellington's Top Firefighter Award. The nominees were Capt. Craig Dube, Driver/Operator Andrew Moreira and Capt. David Prill. Prill was chosen for the honor. Set to retire in October, Prill has served 29 years with PBCFR. He is a leader and counted on by his battalion. He has trained and mentored many young firefighters and new officers.
• There was a discussion of video surveillance. PBSO Lt. Eli Shaivitz told the committee that surveillance cameras are permitted if they show a written notice that the public is being monitored by cameras or for security purposes. If the cameras are plainly or imminently obvious, then the recipient is obeying the law. The danger areas are where people have an expectation of privacy, like bathrooms or locker rooms.
• PBCFR District Chief William Rowley discussed the national "Stop the Bleed" initiative.
"Stop the Bleed addresses the most preventable causes of traumatic death in the country," Rowley said. "This is uncontrolled bleeding. This is a national initiative training that I have been doing around the community."
Working with village staff, Rowley has placed Stop the Bleed kits all around Wellington. "The kits consist of a tourniquet, gloves, packing material to fill a hole and gauze to control bleeding," he explained.