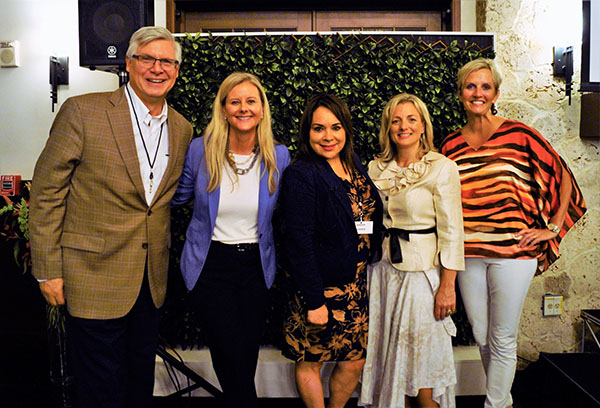 By Melanie Kopacz
The first ever LinkedIn Local Wellington event was held Tuesday, Oct. 29 at the International Polo Club Palm Beach. It proved to be a huge success for a great cause, raising money for the American Cancer Society while linking people "in person" with a sold-out crowd.
"There is not much like this here. It's a different type of LinkedIn event. It's not about sales. It's more about bringing the community together and trying to help the people who are in our neighborhood," event organizer Kelly Merbler said.
The event gave a chance for 85 local business professionals and entrepreneurs to step away from their screens and meet the people behind their LinkedIn professional profiles.
"I wanted to bring the LinkedIn Local experience to Wellington, while also kicking off our Wellington Town Heroes Relay for Life team's fundraising efforts," event organizer April O'Connor explained.
Wellington residents O'Connor, owner of the online referral group the Network Lead Exchange, and leadership development expert Kelly Merbler felt compelled to take the LinkedIn Local model and try it in Wellington.
Tickets were $15, while photographer Hannah Dougan provided professional headshots for $25 each with 100 percent of the night's proceeds going to the American Cancer Society. In all, a total of $1,500 was raised.
The International Polo Club generously sponsored the event. "The International Polo Club gave us an opportunity to showcase one of the best venues in Palm Beach County," O'Connor said. "The staff was so professional and friendly, giving us an incredible experience."
Other event panelists included Ray Titus of the United Franchise Group, Jeannie Fowle of Venture X Palm Beach Gardens and "personal brand evangelist" Lorena Acosta.
Managers of the newly opened Fred Astaire dance studio in Wellington, which celebrates its grand opening this weekend, called it a perfect opportunity to get the word out. "We're really excited to be in the Wellington community, reaching out, getting involved," Studio Manager Tanya Chavas said. "This event was perfect timing."
Organizers hope to hold this event every quarter, benefiting a different charity each time, and extending the human connection. "I think people want to look eye to eye, shake each other's hand and give each other a hug," Merbler said. "We need that. We've lost that."
For more information, contact O'Connor through LinkedIn at www.linkedin.com/in/apriloconnor.