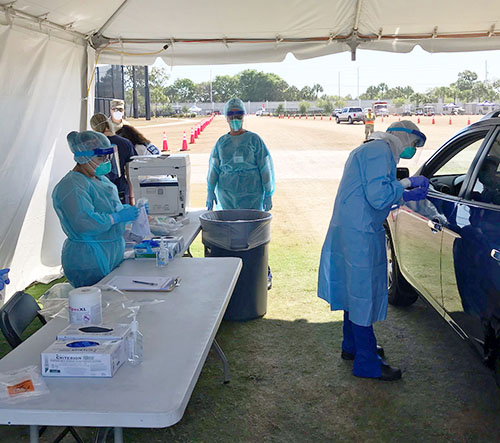 The Health Care District of Palm Beach County will begin scheduling appointments Tuesday, April 28 for two new walk-up COVID-19 testing sites at its C.L. Brumback Primary Care Clinics located at 1150 45th Street in West Palm Beach and 411 W. Indiantown Road in Jupiter.
Residents are encouraged to call the Health Care District's Testing Hotline at (561) 642-1000 from 8 a.m. to 5 p.m. to be scheduled as early as Wednesday for testing at the new West Palm Beach site and Thursday in Jupiter. The sites will enhance access to testing for those who do not have personal transportation, are unable to travel or have special needs.
"The Health Care District appreciates that some residents are more likely to be tested at a site that is closer to their home," Health Care District CEO Darcy J. Davis said. "As this county's safety net healthcare system, we want to expand access to testing, especially for those in underserved communities."
The Health Care District's C.L. Brumback Primary Care Clinics currently operate the county's largest drive-thru testing site at the Fitteam Ballpark of the Palm Beaches in West Palm Beach, where medical staff has administered 11,581 tests since the site opened on March 31. The Health Care District's Brumback Clinics also operate a drive-thru test site in Belle Glade. Both test sites are supported by Florida Gov. Ron DeSantis, the Florida Department of Emergency Management, the Florida Army National Guard and Palm Beach County personnel.
"The C.L. Brumback Primary Care Clinics are located in identified areas of need when it comes to access to quality healthcare services," said Dr. Belma Andrić, the Health Care District's chief medical officer. "By offering free testing for COVID-19 at two of our clinic sites in east West Palm Beach and Jupiter, we hope to serve an even broader number of patients."
Testing is open to individuals of any age who do not need to be symptomatic. Results are communicated by a Health Care District provider as soon as they are available. For more information, call (561) 642-1000.