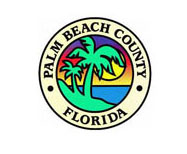 Due to the recent spike in COVID-19 cases, Palm Beach County officials held a news conference on Friday, June 26 to remind residents that the county has a facial coverings mandate in effect.
Palm Beach County Mayor Dave Kerner noted that the Palm Beach County Commission voted 7-0 on Tuesday, June 23 to mandate masks and social distancing in public (see related story).
Kerner said facial covering and social distancing have been shown to reduce COVID-19 by as much as 50 percent. Facial coverings include everything from medical-grade masks to a cloth covering, scarf, bandana or a plastic shield that covers the face down to the chin. They must be worn by patrons and servers in all businesses, restaurants and public facilities that have received permission by the state to open at 50 percent capacity.
The rule also applies to all public transportation services, including PalmTran, taxis and ride-sharing services, as well as municipal and county buildings. The order does not contemplate school buildings. Those rules are being developed by the Palm Beach County School District.
"They have to make that decision on their own," Kerner said, adding that children under age 2 or children in a licensed daycare facility are also exempt.
Emergency personnel who operate under their agency's designated rules and people jogging alone also do not have to wear masks.
There are also exceptions, such as removing a mask in a restaurant to consume food, as well as persons with respiratory illness such as COPD. Houses of worship are not exempt from the emergency order requiring masks. Face coverings and social distancing are required while attending worship services, unless they meet criteria under the exemption noted in the county order.
"We have Fourth of July coming up, and it's important that if we congregate in groups, which we do not recommend, that you do so in a healthy and safe way, which includes wearing a mask," he said.
To stop mass gatherings on beaches, Palm Beach County issued an emergency order on Monday, June 29 closing public beaches over the July Fourth weekend.
As of Friday, June 26, Florida reported 122,964 COVID-19 cases, with 12,498 cases in Palm Beach County, 490 deaths and 1,690 hospitalizations. The largest group of new cases is in the 25 to 34 age group.
"Many are going out in public and going back to social life as we knew it," Kerner said. "That's not possible anymore, and that's where the vast majority of the spread is occurring. We had 650 new cases yesterday alone."
He noted that after being open a week, all bars in the state have been closed back down by the Florida Department of Business & Professional Regulation due to the rapid recurrence of COVID-19.
The county has purchased 5 million protective masks for distribution by an education and compliance team.
"Education is the most important emphasis, but also distribution of [personal protective equipment] to local businesses so that they're well prepared to keep the safety and welfare of the public in mind," Kerner said.
The county is also mailing 1.5 million masks to all homes in the county. He also warned employers to tell employees to stay home if they are sick.
The Palm Beach County COVID-19 Education & Compliance Team is made up of representatives from state and local agencies, including the Palm Beach County Sheriff's Office, Palm Beach County Code Enforcement, Palm Beach County Fire-Rescue, the Florida Department of Health-Palm Beach County, and police departments from Boca Raton, Boynton Beach, Delray Beach, Jupiter, Palm Beach Gardens, West Palm Beach and Palm Beach. Team members will proactively conduct spot inspections of local businesses and public venues, noting where masks are not being worn and/or social distancing is not being consistently practiced.
For more information, or to contact the education compliance team, call (561) 24-COVID (561-242-6843) or e-mail covidcompliance@pbcgov.org.