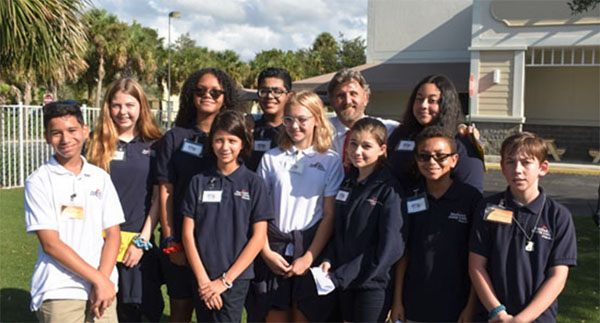 Local middle school students are connecting with seniors at a Wellington assisted living community through the lost art of the handwritten letter.
The service learning class at Palms West Charter School focuses on teaching the importance of making a difference in the local community, and when the coronavirus pandemic unexpectedly swept the world, teacher Joseph Cominio and his middle school students started brainstorming.
"As we are forced to social distance, our students have found a way to connect with other's hearts. Our Service Learning Class reached out to the Addington at Wellington Green Senior Living during this time of great trial, frustration and loss of hope. Letters were written and sent to encourage, inspire and provide a moment of solace, and perhaps joy, to those who feel trapped and lonely during this time," Cominio said.
The middle school students in Cominio's class came up with the idea to reach out to local senior living communities, and from there, the entire school got involved to make an impact on the lives of seniors. Letters poured into the Addington, brightening the residents' days of quarantine.
"I am Alana from Palms West Charter School, and I would like to share some words of encouragement," wrote one young student. "I know it must be tough to be in your situation, and I could only imagine what it'd be like, but you can get through this. You're strong, brave and most of all, loved. It's crucial that you remember this, so you can continue to persevere and keep your mind off of negative thoughts that may linger in your mind. I can only encourage you to stay positive and calm as well as determined and hopeful. It must be boring, I know, but there are some things you can still do. You can color, learn a new language, or face chat with family and friends on the app called Zoom. I sincerely hope that this message had brightened your day even in the slightest, and with that I'll say goodbye."
When the students' compassion met action, they were able to make a difference in the lives of others, and the messages meant so much to residents who have been separated from family for months. "That was really nice," said Addington resident Lillian. "For a child to take the time to compose a message for us is so sweet, because I don't get any letters. What a nice thing to do."