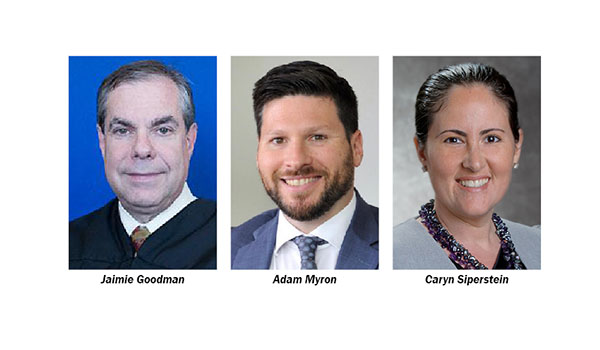 After serving one six-year term on the 15th Judicial Circuit Court, Judge Jaimie Goodman faces two challengers in attorneys Adam Myron and Caryn Siperstein in the race for the court's Group 30 seat.
Voters will weigh in during the Aug. 18 primary election with mail-in voting already underway and early voting starting Monday, Aug. 3. If no candidate gets more than 50 percent of the vote, the top two vote-getters will advance to the general election ballot in November.
As a circuit court judge, Goodman said that he has presided over numerous jury trials and thousands of hearings.
"I have served in the Circuit Civil Division, the Family Division, and the Probate and Guardianship Division," he said. "I have presided over divorce, child custody, child support, probate and guardianship hearings, including emergency temporary guardian cases and emergency hearings to determine the best interests of the children in domestic relations cases. I have also presided over domestic violence, stalking, repeat violence, dating violence and sexual violence hearings, and served as a judge at first appearance proceedings."
Goodman currently presides over medical malpractice, product liability, business litigation, premises liability, auto negligence, wrongful death cases, employment cases, condominium/homeowners' association disputes, tobacco cases, foreclosure litigation and water damage litigation cases.
Prior to taking the bench, Goodman was a longtime employment discrimination lawyer with more than 30 years of courtroom experience. He spent the first 10 years of his career handling civil litigation for a Fortune 500 company. He spent the next 21 years representing people in civil litigation and employment cases when they faced the loss of their jobs or were subjected to unfair employment practices. He also represented people in sexual harassment and age discrimination cases.
Goodman noted that he has maintained for the past 20 years an AV rating from Martindale-Hubbell, the highest rating for professional excellence, legal ability and ethical standards.
Goodman said voters should select him because of his experience as an attorney and as a circuit court judge. He said his extensive jury trial experience is the most of any candidate in this race and pointed out that his rulings in jury trials have never been reversed on appeal, and that he has one of the best track records in the Circuit Civil Division for managing caseloads.
He also pointed out that according to voluntary self-disclosure forms each candidate recently filed with the Florida Bar, his opponent Myron has never tried a jury trial, while his other opponent, Siperstein, has only tried two jury trials.
Learn more about Goodman at www.judgejaimiegoodman.com.
While Goodman is proud of his service on the bench, he has gotten poor ratings from Palm Beach County Bar Association surveys of local lawyers, who were critical of his judicial demeanor. That is a key reason why Goodman has drawn two challengers looking to replace him.
Attorney Adam Myron was raised in Palm Beach County by his parents, Sondra Myron, a retired public school teacher, and Richard Myron, a retired entrepreneur and small business owner. He graduated from Suncoast High School with an International Baccalaureate degree. He did his undergraduate work at Emory University before earning his law degree from the George Washington University Law School.
Myron has practiced law for nearly 18 years and mainly handles complex commercial litigation. He is also certified by the Florida Supreme Court as a circuit mediator.
He said that he has served a broad range of individual and corporate clients and has litigated on behalf of plaintiffs and defendants. His work has involved complex business and partnership litigation, professional malpractice liability, trust and estate litigation, non-competition law, employment litigation, personal injury, association law, and commercial and residential real estate transactions.
Myron added that he has handled multi-million-dollar business and commercial disputes, including the defense of a professional liability matter in which the plaintiff sought more than a billion dollars in damages from clients.
Myron and his wife, attorney Stephanie Cagnet Myron, are raising two young sons. He enjoys triathlons to a degree that he proposed to his wife at the finish line of a race they did together.
Learn more about Myron at www.adammyronforjudge.com.
Attorney Caryn Siperstein said that she wants to increase the level of professionalism and demeanor on the judicial bench and seeks to bring positive change that the community deserves by consistently bringing humility, kindness, compassion, impartiality, respect and fairness.
"I will listen carefully to the litigants and apply the law to the facts," she said. "My diverse legal and court experience, volunteer work and my accomplishments differentiate me and have best prepared me to serve our community as a judge."
She currently serves as an assistant attorney general for the State of Florida in the civil litigation bureau.
"I represent the state, its agencies and employees in a wide range of matters, including constitutional challenges, civil right matters, personal injury, premise liability, real estate matters/eminent domain, prison litigation, judicial, prosecutorial and sovereign immunity," Siperstein said.
Previously, she served as a family and dependency mediator for the 15th Judicial Circuit in Palm Beach County. She has mediated cases in the North County, South County and the Main Branch court houses in divorce, time sharing, child support and custody cases. Siperstein also volunteered to mediate small claims and landlord-tenant matters, and mediated hundreds of cases throughout her career, including contracts, employment, foreclosure and personal injury matters.
Siperstein noted that she has been endorsed by the Palm Beach County Police Benevolent Association and co-endorsed by the Palm Beach County Human Rights Council.
In her campaign, Siperstein had been critical of the incumbent, referring to the 2019 Palm Beach County Bar Association judicial evaluation for Judge Goodman, based upon 278 lawyers responding. She noted that in the "Judicial Demeanor and Courtesy to Lawyers" category, 235 out of 278 lawyers indicated that Goodman "needs improvement." In the "Common Sense (use of practical considerations in decision making)" category, 160 out of 278 lawyers indicated he "needs improvement."
Learn more about Siperstein at www.caryn4judge.com.