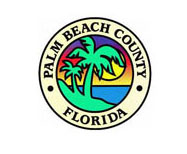 Building on the continued increase in companies relocating to central Palm Beach County and calling the region home, leaders from the county and West Palm Beach have begun conversations on how to amplify this success by accelerating the region's academic offerings for graduate students, professionals and executives.
To help inform these conversations, officials have turned to Florida's flagship public university — the University of Florida — whose breadth and depth of expertise in academic programming and statewide impact make it an ideal choice for a potential partner.
In June, Palm Beach County Mayor Dave Kerner and West Palm Beach Mayor Keith James traveled together to Gainesville to meet with UF President Dr. W. Kent Fuchs to hear his vision for how a flagship university with a unique focused presence in a large urban area could serve the dual purpose of catalyzing regional growth while extending a university's mission of outreach and service.
Fuchs led Cornell University's efforts to build the Cornell Tech Campus in New York City while serving as Cornell's provost. Currently ranked No. 6 among all public research universities, UF's mission centers on its role as a catalyst for the entire state — a role that requires UF to think beyond Gainesville to the urban centers like West Palm Beach that make Florida a bellwether state for the nation and the world.
"This is a rare opportunity for Palm Beach County to benefit from a second public university — one that complements and enriches our current education ecosystem in ways that will position us to be irresistible to the types of companies that our economic development partners work so hard to attract and support today," Kerner said. "The potential ripple effect is expansive, and our citizens will benefit greatly if we can bring a preeminent university such as the University of Florida to West Palm Beach. UF can assist in creating the opportunity pipeline our residents deserve."
The rapid economic growth of South Florida, and Palm Beach County in particular, create a compelling case for consideration. West Palm Beach's urban core and coastal location continue to attract residents and companies alike, including corporations representing the state's growth sectors of finance, technology, business, engineering and law.
These companies have indicated a growing need to support their own growth and expansion by having innovative graduate, professional and executive academic programs in areas such as financial technology, artificial intelligence, data analytics and cyber security in their own backyard. Meanwhile, UF graduates are in increasingly high demand from the nation's leading companies.
"Make no mistake," said Kelly Smallridge, president and CEO of the Business Development Board of Palm Beach County, "the need to offer innovative degrees in these fields from a leading national university is a very real one. It's a challenge for companies that are already here, who reportedly send their employees out-of-state for advanced degrees or import people with a higher skill set. That, in turn, puts increased pressure on our housing crisis and gives the out-of-state candidate an advantage to fill that job."
City, county and UF leaders believe that a presence from a top-tier preeminent public university would help all of the region's institutions of higher education thrive.
"There is a vital role for Florida Atlantic University and other local colleges and universities to partner with us in an effort to advance higher education offerings in the region," Fuchs said. "We are honored by the invitation from city and county leaders to explore with them the possibility of creating unique, focused graduate academic programs that will respond to the emerging needs of the region while advancing workforce development. We see in West Palm Beach an opportunity for a sustainable model that will build new collaborative bridges that can help all of Florida thrive."
Kerner and James noted that city and county leaders are, at this point, engaged only in initial talks to evaluate the full spectrum of requirements and benefits of bringing UF to the region. The potential partnership will require support and approvals from local city and county leaders to move forward into a more robust planning and review phase.
For decades, Palm Beach County parents and business owners have lamented the fact that their children and employees with degrees in science, engineering and business typically leave the state to find the best jobs, Kerner noted. A UF presence in West Palm Beach that offers advanced and professional degrees in these fields could help reverse that cycle, he added.
"West Palm Beach is riding a wave of economic expansion and evaluating all opportunities with a careful eye on quality of life," James said. "We are committed to investing in ways to attract high-paying careers, exciting intellectual capital, financial capital, and enrich our social and cultural fabric while minimizing impact on traffic and the environment. Weaving the University of Florida into that strategy will help us achieve our goals in providing the quality of life that we have always hoped to realize in West Palm Beach, and it would be a huge win for the citizens of Palm Beach County."