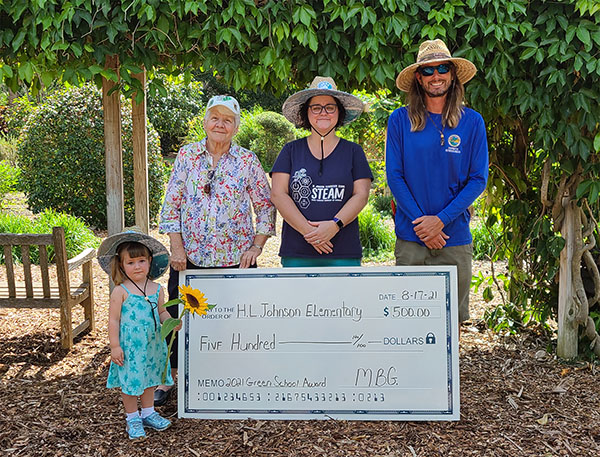 Rochelle Wolberg, curator-director of the Mounts Botanical Garden, recently congratulated the winners of this year's Green Schools Recognition Program, sponsored by FAU's Pine Jog Environmental Education Center. Two schools received $500 each by winning the Judge's Choice Award from Mounts for Best Vegetable Garden.
The winners included H.L. Johnson Elementary School in Royal Palm Beach and Boca Raton Elementary School. PTO President Julie Highsmith accepted the check from Mounts Botanical Garden on behalf of H.L. Johnson.
The Pine Jog Environmental Education Center's Green Schools Recognition Program honors public and private schools in Palm Beach and Martin counties that use ongoing "green" programs, projects and practices to instill a culture of environmental stewardship and sustainability in their classrooms, on their school grounds and throughout their communities. Established in 2008, the program has recognized more than 190 schools. For more information, visit www.pinejog.fau.edu/ourgreenschools.
The Mounts Botanical Garden is one of more than 20 community partners in the Green Schools Recognition Program, and Mounts Board Member Molly Sims participated as a Green Schools ambassador, judge and advisor.
Mounts is Palm Beach County's oldest and largest botanical garden. Visitors to this 14-acre tropical oasis will see an acclaimed collection of 25 unique garden areas containing more than 5,000 species of tropical and sub-tropical plants. Mounts is located at 531 N. Military Trail in West Palm Beach. For more info., visit www.mounts.org.