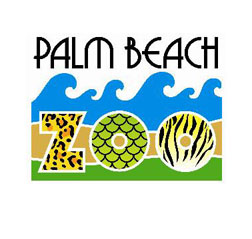 Fans of Palm Beach Zoo's beloved behind-the-scenes animal experiences have frequently asked when they can again get close to Wilbur the celebrity sloth, Noto the giant tortoise and more. The wait is over!
The animal experiences, which were temporarily shuttered last year due to the pandemic, returned this month to the delight of zoo wildlife and their loyal followers.
"Imagine feeling the shell of a 93-year-old giant tortoise or feeding a sloth her favorite treat of blueberries! Animal experiences stay with visitors long after they leave the zoo," General Curator Mike Terrell said. "These up-close and personal interactions with animals, led by their zoologists, are key to inspiring guests to care about the wildlife with which we share our planet."
Three experiences — Aldabra tortoises, Hoffman's two-toed sloth and Chilean flamingos — are available for online booking on the zoo's web site and must be scheduled the day prior to a visit.
The experiences are easy to schedule at www.palmbeachzoo.org/animal-experiences.