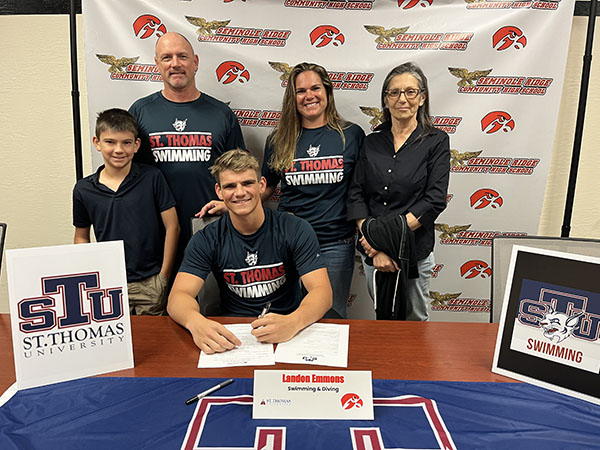 Seminole Ridge High School senior swimmer Landon Emmons will stay in Florida for college after committing to continue his swimming career and academic studies at the college level.
Emmons has accepted a scholarship offer from St. Thomas University in Miami Gardens. The St. Thomas University Bobcats compete in the Sun Conference, which is a member of the National Association of Intercollegiate Athletics (NAIA).
Emmons, who didn't start swimming competitively until his freshman year in high school, is thrilled about this new opportunity.
"A year ago, my goal was to find the best-fit college for me," said Emmons, who will pursue a major in exercise science and kinesiology. "Now, I'm super excited, and I would start training with St. Thomas right now, if I could."
According to Emmons, he will continue to swim the sprint races — the 50- and 100-yard freestyle races — at St. Thomas University. He knows that he will improve his times in those short races because St. Thomas has coaches totally dedicated to sprint swimmers, focusing on their starts, turns, kicks and stroke patterns.
While Emmons feels his starts are strong, his flip turns are his weakness. "There's always room for improvement in my stroke, starts and turns," he said.
Seminole Ridge varsity swimming coach Marie Pelfrey believes that Emmons will be a great addition to the swimming program at St. Thomas.
"What makes Landon a good candidate for a college swim team is his dedication to the team and to his sport," Pelfrey said. "He works hard to improve his times and his performance in his events, and he follows the advice of his coaches and always seeks out help to improve. He enjoys being part of a team. And he has a positive attitude toward his teammates, as well as his own work ethic. He's also an incredibly kind and friendly young man who is very respectful of others."
Emmons' mother is delighted that her son is continuing his swimming career.
"We're excited for him, and he's worked hard for this great opportunity," Kim Emmons said.
Emmons, a four-year varsity swimmer for the Hawks, advanced to the Florida High School Athletic Association's Class 3A state finals for the first time in his high school career last November. In that state meet, Emmons competed in the morning preliminaries of the boys 50-yard freestyle. He swam fast enough — 21.96 — to tie for the eighth and final spot in that evening's championship final. A rarely needed one-on-one "swim-off" race was contested between Emmons and Jose Robles from Plantation High School. In the swim-off, the winner would advance to the championship, and the loser would swim in the consolation finals that night. Emmons won the swim-off with a faster time and new school record of 21.69, which propelled him to the eighth-place position in the championship final. That evening, he recorded a time of 22.07.
"I didn't have enough in the tank in the evening after those two 50-yard swims in the morning," Emmons recalled.
Emmons will report to St. Thomas on Aug. 19 in order to move into one of the university's dormitories. Swim practices begin on Sept. 5. Between now and then, he will continue to train with his local swim club, the Wellington Wahoos.