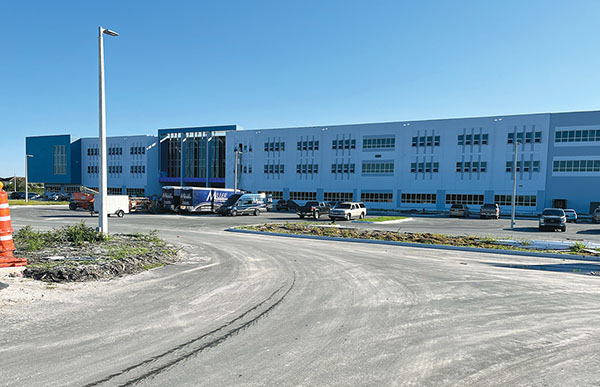 By Charles Elmore
Wellington residents spoke up in meetings. They submitted hundreds of pages of e-mails. They made a case for not being zoned out of highly rated village schools to help fill a new high school opening in suburban Lake Worth. After a pitched debate, momentum seems to be swinging in their favor.
At least, a key panel advising the Palm Beach County School District voted Tuesday, Dec. 20 to study a revised map for the new Dr. Joaquín García High School that could keep hundreds of southern Wellington students at Palm Beach Central High School. The Advisory Boundary Committee meets again Thursday, Jan. 12.
"The quality of the schools was the central reason we decided to locate here," said Mike Costello, one of scores of parents who spoke up on the issue.
He lives in a part of Wellington along the Lake Worth Road corridor that was initially zoned for the new school.
"Both Wellington High School and Palm Beach Central are A-rated schools," he noted. "The new high school will not be ranked for a while."
The first new high school to be built in Palm Beach County since 2005, Garcia is set to open in August on Lyons Road, north of Lantana Road in unincorporated Lake Worth. It will be a state-of-the-art facility, but exactly how to set its boundaries has proved to be a big deal in the nation's 10th largest school district.
One potential downside to the latest plan is it will likely leave at least one Wellington high school operating under crowded conditions for at least the next half decade. Planners say that could mean 110 percent of capacity at Wellington High School, or 107 percent to 109 percent at Palm Beach Central, depending in part on the assignment of neighborhoods between the two village schools.
Some boundary committee members questioned at the Dec. 20 meeting why it was not possible to spread out enrollment better, so a host of schools across a large swath of the district could operate closer to or below 100 percent.
"It will be very difficult to do what this committee needs to do if we allow city limits to become a fence around which this committee has to work to relieve overcrowding or to populate a new school," Committee Member Carlos Diaz said.
One piece of Wellington, a tract known as 179A, sticks out on the map village residents advocated. Such areas that flare out from a thin point of connection with the rest of their school's territory are sometimes called a "bow tie."
Garcia's new campus is physically closer to many of the neighborhoods in question than Palm Beach Central, Diaz said.
But residents mentioned several factors, such as that Wellington offers supplementary grants to its public schools, and that an engineering program at Polo Park Middle School, for example, feeds into a similar specialty at Palm Beach Central.
Some noted that a new western-area high school planned in six years could relieve the excess enrollment over time.
Wellington resident Jennifer Hamilton said her daughter, a sophomore, was worried about leaving her friends at Palm Beach Central.
"I can tell you that she has been an emotional mess since the news of the proposed zones has come out," Hamilton said.
Susan Perconte also believes that Wellington students should go to Wellington schools.
"My family and I love and take pride in our community and firmly believe that we live in Wellington and our children should remain in our A-rated Wellington schools," she said.
Speakers and e-mailers expressed concerns about ripple effects across a large number of schools spanning nearly half the county, but the biggest hotspots remained Palm Beach Central and another Garcia neighbor to its southeast, Park Vista High School.
The committee plans to study what will be a seventh version of the boundary plan in January, combining elements of previous proposals.
The first plan presented at a Dec. 8 meeting would have moved 495 students from Palm Beach Central's boundary to Garcia in the first year, and up to 650 in later years, officials said. Palm Beach Central would have accepted some students from crowded schools to its east, with the goal to operate near its designed capacity of 2,744 students. After feedback from village leaders and residents, subsequent plans began to explore letting Wellington students stay put.
Garcia is projected to hold about 2,500 students by the 2027-28 school year. The name honors Dr. Joaquín García, a Cuban-born local businessman who died in 2021. He was a founding member of the Hispanic Education Coalition of Palm Beach County.
The process still has a long way to go, and the committee's findings do not necessarily dictate what the school district ultimately chooses to do. District officials are expected to make a final decision in the coming months, perhaps by early spring.
But so far, Wellington residents have made their voices heard.
Members of the public can comment at the school district's Advisory Boundary Committee virtual meeting set for Thursday, Jan. 12 at 5 p.m. Check the district's online meeting calendar for details.
Comments can also be sent via e-mail to public.comment@palmbeachschools.org.