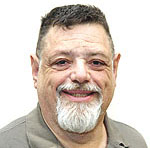 'I' ON CULTURE
Director Rian Johnson's The Glass Onion is a worthy successor to his recent hit Knives Out. It is not exactly a sequel since there is only one returning character, but it is a very clever who-done-it that turns the genre a bit on its ear to be successful and funny.
It is set in May 2020 when most of us were locked inside our homes trying to keep from going nuts. Of course, that was just for regular folks. The really rich and degenerate did their own thing. While we suffered, a group of people receive puzzle boxes that when solved get them invitations to a private island in Greece for a murder mystery party.
The recipients are all quite different. The one thing they have in common is friendship with tech billionaire Miles Bron (Edward Norton) who has sent the invitations. Gov. Claire Debella (Katherine Hahn) is a successful politician. Lionel Toussaint (Leslie Odom Jr.) is a brilliant scientist. Birdie Jay (Kate Hudson) is a former model who has built a fashion empire, while her overworked assistant Peg (Jessica Henwick) tries, usually unsuccessfully, to keep her boss out of trouble because she is really dumb. Finally, Duke Cody (Dave Bautista), a Joe Rogan-style personality, is there, along with his girlfriend Whiskey (Madelyn Cline). But there are two unexpected guests, Andi Brand (Janelle Monáe), former partner who Bron stole his basic idea from, and Benoit Blanc (Daniel Craig), "the world's greatest detective."
They all meet at a pier, where they get a vaccine (a joke since it had not yet actually been developed, and it was sprayed inside their mouths, something not yet available) and then get on a yacht to the private island, dominated by a huge house, topped by, what else, a glass onion.
The story goes on from there, essentially using the onion as a metaphor as many layers are stripped away and Blanc tries to figure out what's going on. Norton tells the group that they will be asked to solve his murder, although it's clear that will be fake. But sitting in a gigantic room decorated with incredible artwork, it seems anything is possible for a man so rich he can display the real Mona Lisa, as sort of hostage to a major loan owed him by France.
But the original plot is shuffled around and things seem to get very real. No one is exactly who they say they are. The man supposed to be dead is not the target but others are. And all have dirty secrets that could ruin them. And the man who could do it is their host. Bit by bit we learn what happened in the past and how it affects the present and might influence the future. And we can be amused by it.
The best thing about the film, after the intricate plot, is the acting. Craig is, as in Knives Out, more than a bit over the top. But he also combines it with almost under acting at key moments to set off the rest of the cast. And they are really good! Norton, as usual, is excellent. He manages to be charming, manipulative and evil all at once. Hudson was particularly good. This is her best performance ever since she was pretty much a kid in Almost Famous. She manages to be a caricature of a fool but an interesting one. But Monáe is the real standout, handling a tricky part really well. Bautista was his usual blowhard best, as called for in the plot. Cline was particularly good in her smaller role.
I enjoy a well-plotted movie. There are so few of them. And here we have a film where no one flies or has superpowers, but they do change. Unfortunately, by the time you read this, the film will be out of theaters and soon to be on Netflix. A foolish move; there were a lot of people in the theater along with me. But that's show business. If you can, watch it.