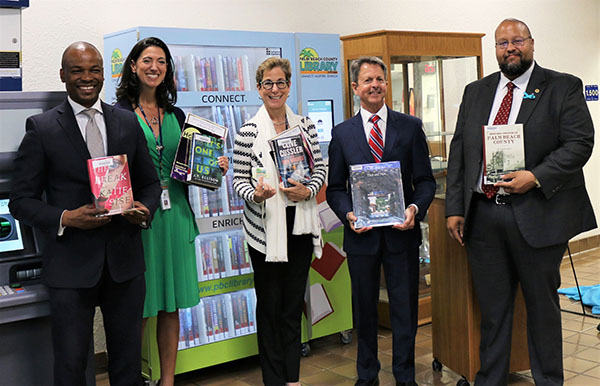 On Tuesday, March 14, the Palm Beach County Library System unveiled its latest resource available for community members to access library materials — the Library to Go cabinet.
Similar to a vending machine, Palm Beach County Library System cardholders can now borrow new and popular books from this device. In addition, members can return any library materials to the Library to Go cabinet by using their library card.
Library Director Douglas Crane welcomed guests to the grand unveiling of the Palm Beach County Library System's first-of-its-kind cabinet.
"We're very excited today to launch Library to Go. If it goes well at the Governmental Center, we expect to expand the service out to other locations," he said.
In attendance were Palm Beach Mayor Gregg Weiss, who ceremoniously checked out the first book, followed by members of the Board of County Commissioners, including Commissioner Maria Marino, Commissioner Michael Barnett, Commissioner Marci Woodward and Commissioner Mack Bernard. All were very pleased to see this expansion come to the Palm Beach County Governmental Center.
Cory L. McCoy, president of Lyngose Systems U.S., the company that produced the Library to Go machine, was also elated.
"We wanted to keep it super simple and 100 percent mobile, where you can put these machines anywhere to increase the patron experience for the Palm Beach County Library System," McCoy said.
Members are encouraged to visit the machine, located at the Robert Weisman Governmental Center Lobby at 301 N. Olive Avenue in West Palm Beach during regular business hours.