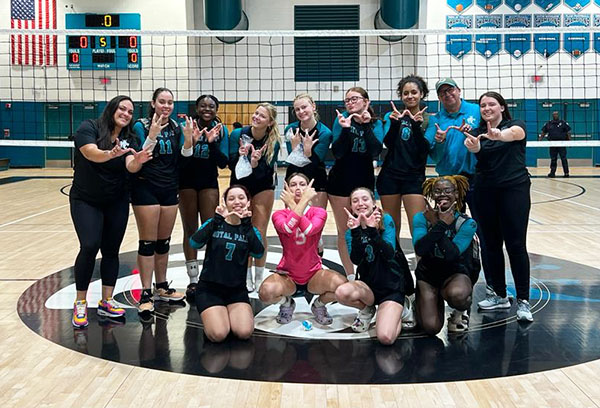 If you believe it, you can achieve it. That's the competitive mindset of the Royal Palm Beach High School girls varsity volleyball team, which is currently having one of its finest seasons in years.
Under third-year head coach Jessica Buck, the Wildcats have compiled a 14-5 record through their first 19 games. The team's most recent victory was against the Dreyfoos School of the Arts on Tuesday, Oct. 3. Royal Palm Beach won in four sets, 16-25, 25-18, 25-16 and 25-18.
One of the key performers this season for Royal Palm Beach has been its senior captain, Jenna Larsen, who has been leading by example both on and off the volleyball court.
"Jenna has taken a big leadership role this season, not only in practice but in games as well," Buck said. "She encourages everyone to work hard and keep going when games get tough."
Larsen is also her team's leader in kills with 225.
Another great on-court leader for Royal Palm Beach is junior setter Jadyn Mainolfi, who has 382 assists so far this season.
"Jadyn has done a great job this season reading the other teams' blockers, so we can get our hitters one on one," Buck said. "This has made us a strong attacking team this season."
Other team leaders for Royal Palm Beach include freshman Leslie Mentor, who leads the team with 21 blocks; junior libero Liliana Oppo has a team-leading 117 digs; and junior Skye Zwirner has been the team's top server with 35 aces.
Compiling a winning record has taken a commitment to excellence by every member of the 10-player squad. Winning a few matches has not been an easy task for the Wildcats, but they did it by truly playing with one another and for one another.
"We know what it's like to face a challenge this season, especially with having five of our games this year go to five sets," Buck said. "We have some hard games coming up, but that's exactly what we wanted heading into districts. We are learning and growing as a team each and every match. I'm excited to see what we will bring as the season continues."
During a two-day stretch on Sept. 29-30, Royal Palm Beach competed in a local tournament where Buck feels that her team learned a great deal, which will help them for the balance of this year's season and well into the future.
"We went 1-3 over the weekend of Sept. 29-30," she said. "It was a great tournament. We played a team from Puerto Rico, so that was pretty neat. We played incredible competition and learned a lot as a team despite losing some games."
If the Royal Palm Beach girls varsity volleyball team can continue its winning ways for the balance of the regular season, the team will attempt to ride that momentum deep into the Florida High School Athletic Association's Class 7A playoffs, which will begin in mid-October.
The ultimate goal is to reach and win the FHSAA's Class 7A state championship game, which will be held on Nov. 11 at 6 p.m. on the campus of Polk State College in Winter Haven. And, of course, if the Royal Palm Beach team believes that they can make it to that championship game, they can certainly achieve it, and possibly win it!