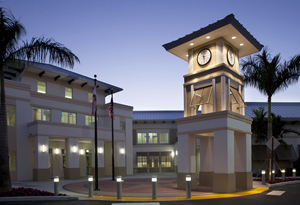 The Wellington Village Council approved the final reading of its $89 million 2016-17 budget and property tax rate on Tuesday after discussion of a proposed paid parental leave policy.
The budget has set aside approximately $30,000 for parents — mothers and fathers — to take off to be with their newborns. A formal paid parental leave policy has not yet been adopted, but council members had disparate views on the idea.
Two members of the public spoke on the advantages of paid parental leave.
Wellington resident Shelly Albright, a member of the village's Education Committee who serves on the board of directors of the Women's Foundation of Palm Beach County, commended the council's effort to allow parents to spend time with their newborns and adopted children.
"The United States is one of the only developed economies that does not guarantee paid time off to workers when they need time to provide care for their families," Albright said. "While the law does allow time for employees to take off, it is unpaid, and it makes it difficult for many to actually utilize this resource."
Albright added that paid parental leave gives children a jump-start on their development. "Studies have shown that newborns whose mothers take longer leaves are more likely to be taken to the pediatrician for regular checkups and immunizations," she said. "Men who take two or more weeks off after the birth of the child are more involved in the direct care of their children nine months later."
She added that paid parental leave helps reduce turnover and actually saves the employer money.
Jupiter Vice Mayor Ilan Kaufer, the father of two young children, also supported the idea.
"I wanted to come down to your meeting tonight as this is a passion of mine, and I applaud you, no matter what side of the issue you are on, for discussing the issue, because it's an important discussion that elected officials really need to be having at all levels of government," Kaufer said.
He said his council is also having discussions on paid parental leave.
"I'm hopeful that my council will follow your lead if you vote for it tonight," he said. "More importantly, I come as a father of a 2-year-old and a 2-and-a-half-month-old, and I can tell you, the last 10 weeks now of our daughter's life, I could only wish that I got to spend the last six weeks at home with her. My full-time employment does not allow me to do that."
Mayor Anne Gerwig said she opposed paid parental leave because it singles out an advantage for a segment of employees that others do not receive.
"My issue with paid parental leave is really one of morality," Gerwig said. "I have three children, I really have valued that time of my life, but I do not like to set apart a certain thing in anyone. If I were working next to someone who is getting six weeks' paid leave and I was barren, or even not married and wanted to be, I just don't agree with it. I do agree with paid leave, which is what our policy already does. It's equal for all circumstances, whether you have a newborn or your spouse is ill."
Councilman Michael Drahos agreed with Gerwig that such a policy would treat employees unequally.
"I believe this policy is inherently flawed because it allows a benefit to one and it doesn't allow a benefit to another," Drahos said. "This is a $30,000 item in an $89 million budget, so I'm not going to vote against the budget simply on this issue, but I do want the residents to know where I stand on it."
Councilman Michael Napoleone said he favored giving employees the right to have time off when their children are born.
"I think it's the right thing to do for both parents," he said. "I think adding a child to your family is the most significant long-term life event you can have. I think the fact that other government agencies are not doing this yet, I think they're wrong, and I think they will see what we have done here, and we will have a policy that others can follow and implement in their municipalities."
Napoleone said he had not seen the policy drafted by village staff for council consideration later.
"I don't think we're approving a policy tonight," he said. "We are just approving the concept that we are going to implement a policy that provides for paid parental leave for employees, and I think that's a good thing to do."
Councilwoman Tanya Siskind agreed that paid parental leave was the right thing to do.
"To say that because some people don't have children, we shouldn't have this policy is like saying because some people don't have children, we shouldn't have parks and rec," Siskind explained. "I used to be an executive recruiter, and I do believe that policies like this attract and retain great employees, and I think this is something we want for Wellington. How can we say we're all about families, we put families first, and not support something like this?"
Vice Mayor John McGovern who brought forward the proposed policy, said he felt it is Wellington's chance to lead.
"I think this is a policy that allows us, more than anything else, to adhere to the fundamental Wellington core values of families, children and neighborhoods, and this is in keeping with those views," McGovern said. "Furthermore, I think this goes further. I think it makes good economic sense, because for a very low cost, it allows us to offer an additional benefit, which as we have an aging work force, particularly when we're looking at senior management, this will allow us to attract the very best people to the village to serve our residents."
He pointed out that Wellington would be the first municipality in Palm Beach County to adopt such policy, but would be joining other municipalities such as Atlanta, Boston and the City of Doral in Miami-Dade County.
"This is where Wellington should be going," McGovern said. "We want to set the example for Palm Beach County, and we want to fundamentally continue to be a great hometown and a great place to work."