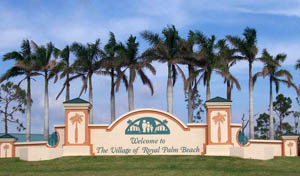 By Shayna Tanen
The Royal Palm Beach Village Council will make it somewhat easier for people with disabilities to get around strict zoning requirements, voting 5-0 at its meeting Thursday, Dec. 15 to enact a "reasonable accommodation" policy.
The policy sets up a system that allows the village to process requests from people who are disabled or handicapped and who want an exemption or change from village zoning rules to modify their homes.
Village Attorney Jennifer Ashton said that under the federal Fair Housing Act and Americans with Disabilities Act, the village legally must apply its rules and regulations equally in regard to housing.
"Sometimes our zoning restrictions are restrictions — they're too rigid," she said. "And they're not flexible enough to allow people with disabilities to fully enjoy their housing."
The policy would allow someone with a disability to ask the village to waive or modify a village code rule, provision, policy or practice, but it does not give anyone more rights under the law.
Both Councilwoman Selena Smith and Vice Mayor Jeff Hmara expressed concerns that the policy might "open the floodgate" of people requesting exemptions.
Under the Fair Housing Act and Americans with Disabilities Act, "disability" and "reasonable request" are well-defined, helping to curb abuses, Ashton said.
The reasonable accommodation policy, she said, is simply an in-house administrative policy to ensure that people's requests get to the right officials and are handled properly.
At the meeting, Mayor Fred Pinto said that from a rights standpoint, reasonable accommodation already exists. By setting up the administrative policy, the village makes sure that it has the right procedures in place, he said.
Ashton used an example to further emphasize the role of the reasonable accommodation policy. She said that home setback requirements would ordinarily prevent a person in a wheelchair from putting a ramp or similar structure into the setback of a home. Requesting the ramp in order to access a home is a reasonable request, so under the policy, a person may come to the village and ask for a waiver of the rules. The disabled person and the village would follow the procedures put in place under the policy to work out an agreement and help the person access his or her home.
The policy also applies to renters, Ashton said, because once people become tenants of a home, they have the same right to enjoy the home as owners would.
"We have not had a policy like this," Ashton said. "We need one. The federal courts have said it is a very good idea to have one, so when you do get a request, you send it to the right person, respond in a reasonable amount of time and treat everyone fairly."
On Tuesday, Village Manager Ray Liggins said that before this policy was enacted, people could still seek accommodations for their homes. Now that the policy is in place, staff will be trained on the policy and how to respond to requests.
"We're regulators, so when it comes to our zoning codes and our land use codes, we regulate the community as it relates to those codes," he said. "If somebody can't meet those codes, instead of keeping a regulatory hat on, we will switch to an accommodation hat and deal with it differently."