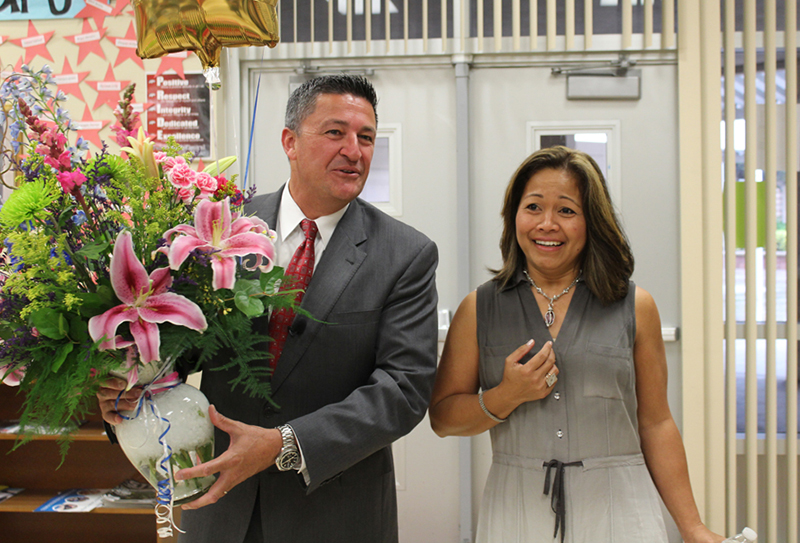 BY JACK LOWENSTEIN
Palm Beach Central High School held a surprise ceremony to recognize Dr. Evangeline Aguirre as the Palm Beach County Teacher of the Year on Tuesday, Feb. 28.
Aguirre is an ESOL (English for Speakers of Other Languages) intensive reading and English teacher, who has been at the school for nine years. Her students speak many foreign languages and come from all over the world. She takes concepts from the English language and makes them understandable for her students to learn. Her students work together to get a greater understanding of the concepts they are taught.
"She's a good teacher. She's always worried about us. She always shows us to never give up, always continue with your goals," Cacilia Morales said. "When you have problems, you go to her; she always helps you. I love her a lot."
Aguirre was greeted and recognized as teacher of the year by Palm Beach County School Superintendent Dr. Robert Avossa. She was overcome with tears of joy, as Avossa and Principal Darren Edgecomb acknowledged her in front of students and faculty.
Edgecomb expressed his appreciation for Aguirre and how he felt about her as a teacher.
"The thing that I love best about Dr. Aguirre is that she's a learner," Edgecomb said. "She constantly grows every training professional development because she wants to be a better teacher, because she wants her kids to be the best."
He calls her one of the school's "irreplaceables."
"I don't know what we would do if she was not here. I just don't think it would be easy to replace someone of that caliber," Edgecomb said.
Edgecomb believes she is well-deserving of the award and recognition from Avossa and the school district.
"I think the qualities and traits that she exhibits correspond directly with what the superintendent is doing with his strategic plan, a world-class educational experience for all students, and she provides that," Edgecomb said. "She provides it with some of our most needy kids, and she inspires them to be great, just as she is."
Aguirre described how she felt after being recognized.
"I'm really shocked. I did not expect this. I do the best I can every day in the classroom without hoping to get recognized for it, but it's really something I'm truly proud of," she said. "I'm just happy of what I do in the classroom. I get to contribute to students' growth, and for them to be real good citizens and good individuals."
Aguirre said it's also great recognition for the kind of teacher she is, as she hopes to continue to bring attention to ESOL programs nationwide.
"There are a growing number of ESOL students," Aguirre said. "We need more teachers who are experts in the field because this is not just about being passionate about teaching ESOL students. This is about knowing exactly how to teach the students, who, most of them, are in the lowest 25 percent of the school population in terms of academic performance, so that's what I hope to promote."
There are more than 13,000 teachers in the Palm Beach County School District.
"She was selected because of her hard work and dedication," Avossa said. "She has been with the school district for 13 years. We recruited her from the Philippines, and she has been an outstanding teacher ever since."
Aguirre will represent the school district at a state competition.
"We should know in a couple of months whether she wins, but today she's a winner in our book, in terms of being the top teacher in our school district," Avossa said.
School Board Chairman Chuck Shaw was present at the ceremony.
"It is always a pleasure for us to be able to recognize our teachers," Shaw said. "For all of us in education, we know how hard our teachers work every single day, and all you have to do is look in the face of a teacher when they're trying to help out students, and especially the surprise we saw this morning about a wonderful job, and what an honor to be able to recognize somebody who does so much for our students."
School Board Member Marcia Andrews congratulated Aguirre on her recognition.
"I'd like to say, as your board member, I am so proud of you," Andrews said. "As a teacher recruiter, and recruiting all over the world, a wonderful teacher, you have made it happen for Palm Beach County. Congratulations on this great honor. Continue to take care of the children and do the job that you do."
Aguirre rushed over to embrace her husband, Stan Crooks, as the initial commotion from the surprise calmed down.
"This is a great school. I love the people I work with," she said. "I have a wonderful principal, who has been very, very supportive of the things I do, and the things that my students need. He always provides for the kids and the faculty, so I'm glad to work with wonderful administrators. I have such great kids to work with."
Everyone surrounded Aguirre and her husband. "You've been keeping secrets from me," she said to Crooks as she laughed and hugged him.