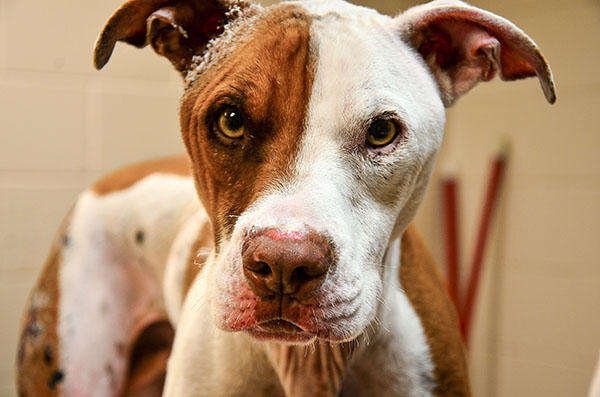 A fire in West Palm Beach late last month left a defenseless dog fighting for his life, and now several community groups and businesses are stepping forward to help out.
The fire on Tuesday, March 28 left Smokey seriously injured, and if it wasn't for the quick thinking of Capt. Gregg Gordon and firefighter Marcos Orozco of the West Palm Beach Fire Department, who were part of the team responding to the call, Smokey's fate would be dark.
As soon as the fire was out, they heard the dog barking. Bystanders had mentioned there was a dog, and the duo quickly went in and found him.
"He had sustained some pretty heavy burns," Gordon said. "He was panting pretty heavily. He was very, very distressed. I was very concerned about his condition."
The heat of the fire, the smoke and the superheated gases were all working against Smokey.
Smokey — the new name given to the 2-year-old mutt — was brought to the Peggy Adams Animal Rescue League for care. Badly burnt, the brown-and-white pup is lucky to be alive. He is under emergency 24-hour care with specialized medical treatment and is spending time healing in a hyperbaric chamber.
Peggy Adams CEO Rich Anderson said Smokey is doing well.
"He's undergoing hyperbaric chamber treatments," Anderson said. "Initially, we thought it would be about six treatments. That increased to 12 treatments, and it's probably going to be as many as 17 treatments or more in the chamber."
To help Smokey, Peggy Adams has set up a special web page for donations at www.peggyadams.org/smokey2017.
Smokey's medical bills were originally estimated to be around $4,000, but that number is anticipated to at least double.
The burns he has suffered are healing, he is eating and drinking normally, but he still has a long road ahead.
Smokey has been undergoing treatment for almost two weeks.
"He's healing really well; everything's going according to the doctor's plan, but we don't know exactly how long the treatments will continue," Anderson said.
But because the bills have mounted so quickly, another local business is also stepping forward to help.
Oak Bistro & Wine Bar, located at 11051 Southern Blvd. in Royal Palm Beach, will host a special event to benefit Smokey on Sunday, April 23. From 2 to 4 p.m. there will be a $25 beer and wine tasting during the Dog Day Afternoon Fundraiser. One hundred percent of the proceeds from the tasting will be donated to cover Smokey's bills. Republic National Distributing is also supporting the event.
"We have always supported the local animal rescue charities. But this one hit particularly close to home since Capt. Gordon and his wife are family friends," Oak Bistro & Wine Bar owner Lisa Jacobsen said. "We just knew we needed to help them and Smokey in the best way we could. Hopefully, this allows Smokey's bills to be covered, currently and in the future."
After the continuous treatment since the fire, Smokey is on the mend.
"We're just taking it one day at a time with his burns, making sure that they're healed very well before we send him home," Anderson said.
The best part of this story may be that Smokey's temporary home will be with someone he met just recently.
Capt. Gordon and his wife, Lauren, are going to bring the dog home with them as soon as he is ready. They plan on fostering Smokey and introducing him to their three other dogs — and, of course, giving him plenty of one-on-one time to help him recover and try to erase the pain of his hardships.
"We want to make sure he gets all of the attention he deserves, while we find him the right home," Lauren Gordon said.
The Gordons have experience fostering dogs and working with rescues, so the idea of fostering Smokey came naturally. "It just wasn't a question that we would do it," she said.
Capt. Gordon wanted to make sure Smokey would have a brighter future. "Our paths had crossed; it seemed like the right thing to do to help him out," he said. "We're going to do whatever we can to help him out and help him find a forever home."
After their first meeting, Capt. Gordon is looking forward to meeting the dog under better circumstances.
"He's a cute little guy," he said. "Hopefully, we can make a positive impact in his life."
ABOVE: Smokey is currently recovering from his injuries.