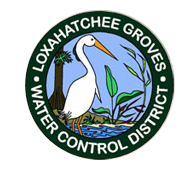 Three people have filed for two open seats on the Loxahatchee Groves Water Control District Board of Supervisors.
Incumbent LGWCD President Frank Schiola is seeking re-election, joined in the race by two newcomers, Connie Bell and Karen Piesley. Longtime Supervisor Don Widing did not file for re-election. The election will be held in June.
Bell has lived in Loxahatchee Groves for about 17 years and in Palm Beach County since 1987.
"My husband was born and raised here, and I'm a mother of three children who were all raised in the Loxahatchee community. I'm passionate about my family and community, and I have countless hours of volunteering and fundraising," she said.
Bell has also been involved in the construction industry for more than 30 years. "My husband is a general contractor, so I help," she said.
In 2002, she took a position with the Palm Beach County Tax Collector's Office.
"I'm a State of Florida-certified tax collector. I worked in several different offices in the county when I worked there for approximately 14 years," she said. "I did property tax, business tax, vehicles, hunting, fishing, handicapped parking, anything that they offered; I was an expert."
Bell also was a deputy tax collector, where she worked with the community on how to avoid unnecessary fines.
"We would go out and educate people who weren't licensed, didn't have the proper stuff, on how to get it," she said. "Instead of giving them fines and shutting down their business, my idea was to educate them and get them where they needed to be with their credentials."
Three years ago, she took a positon with the Village of Royal Palm Beach, where she works in the building department.
Piesley moved to Loxahatchee in 1958 and has been in the nursery business for 40 years. She has run Caledonia Nursery on Folsom Road since 1989.
Married to Michael Piesley, she has three grown girls, six grandchildren and two great-grandchildren. She sits on the Loxahatchee Groves Uniform Land Development Code Committee.
Piesley and her husband, master gardeners who manage several estates in Palm Beach, are turning their nursery into a botanical garden. "We design gardens and maintain them," she said.
Piesley believes that she can be an asset to the community with her past experiences and historical knowledge of the community.
Piesley hopes to bring clarity and focus to improve and maintain a rural lifestyle. She has extensive knowledge of canals, embankments and water flow, and her goal is to address matters relating to water that are of concern to property owners and residents.
Schiola, who is in his second term on the board, said that it is time for the district and the town to work together more closely so that it benefits everybody in the community.
"It's just about one and the same," he said. "Hopefully, the newcomers understand the law and understand what their responsibility is, and their responsibility is not necessarily to the town, it's to the taxpayers of the district — watching out for the district and spending the money wisely."
Schiola has been a firefighter for the City of Riviera Beach for 23 years and for more than five years with the City of Belle Glade. He is married with two children in middle school and high school.
The proxy-vote election will be held Monday, June 26.