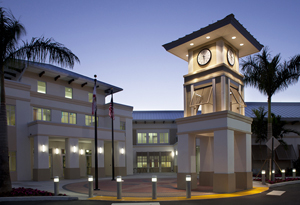 Wellington's Planning, Zoning & Adjustment Board, in an unusually scheduled Thursday meeting last week, agreed to postpone discussion of comprehensive plan and zoning applications that would create "floating zoning districts" to allow more commercial uses, including hotels, at the International Polo Club Palm Beach property.
Senior Planner Cory Lyn Cramer said the village's traffic consultant, Andrea Troutman, had raised several issues relating to traffic data that needed to be worked out in relation to the applications.
Additionally, prior to the Equestrian Preserve Committee's approval on April 5, the applicant had requested to meet with staff and the village attorney to revisit a question of allowable density for a condo hotel.
"We're hopeful to resolve these issues in the next few weeks, and it's our recommendation, and we believe that the applicant has agreed, that we ask you to postpone these four items tonight," Cramer said. "The applicant has also committed to submitting an application for a master plan for IPC and [the adjacent] Isla Carroll [property]. We are recommending that the rezoning application not be adopted until the master plan has been reviewed."
The postponement will give board members a clearer picture of the proposed overall plan, Cramer said.
"It would allot some additional time for the applicant to prepare and submit the master plan, and if the master plan has not been fully vetted through the [Development Review Committee] and the [Equestrian Preserve Committee] by the time we reconvene here, at least the objective in having a plan available as part of the illustration, we're hopeful that we can meet that."
Attorney Dan Rosenbaum, representing applicant Mark Bellissimo of Wellington Equestrian Partners, said he had discussed the issues with his client and wanted to get them resolved.
"We are in agreement with what Ms. Cramer told you, and we believe it will save quite a bit of time and effort on behalf of everybody, including members of the public, to have these matters worked out, and we can debate these issues in a better way," he said.
Rosenbaum added that he had been asked to inquire about the possibility of a special PZA Board meeting to discuss the four petitions up for consideration. The Equestrian Preserve Committee meeting lasted almost four hours.
"That's a scheduling issue, but I thought it would be helpful to have that consideration," he said.
The next regular PZA Board meeting is set for Wednesday, May 10. He suggested a meeting sometime after then.
"We would be looking at probably within a week of that… so we have sufficient time to get the master plan submitted," Rosenbaum said. "We'll also have a conceptual site plan, and provide most importantly the meeting notice, which is 14 days, but when you actually get it in, it's about 18 days to get that done."
PZA Board Member Jeffrey Robbert asked whether the petitions would need to go through the Equestrian Preserve Committee again, and Rosenbaum said the petitions had been approved by that board, but it had not seen the master plan or conceptual site plan.
"What we are trying to accomplish is to have the master plan catch up through the process, so it will really help illustrate the application in a much more thoughtful way," Rosenbaum said. "We're trying to put all these pieces together. Obviously, if you looked at your packages, which I know you have, these are very complicated petitions. It's going to help your consideration, and the consideration of the other boards as well."
Village Attorney Laurie Cohen said her only concern about establishing a time for a special meeting that evening was that they did not have the master calendar available.
"I don't know whether there are any conflicting meetings scheduled for that date, so I would suggest that if you're going to postpone it, you postpone it to your next meeting, and at that time, if you want to schedule it for a special meeting within a week of that, you can do so," Cohen said.
Cramer noted that there were many members of the public in attendance who had planned to speak.
Cohen said some of the matters were legislative and some were quasi-judicial, which require the board to afford due process to the applicant, as well as interested parties.
"The decision that the board makes in these quasi-judicial matters has to be based on the evidence that is presented to them at the time of the hearing," she said. "Although I understand a lot of you are here tonight to comment on these items, if they are postponed, my recommendation to you is that you make your public comment when the applications come back, so that your comments will actually be part of the public record."
Cohen said anyone is welcome to speak during public comment, and the board would be happy to hear them, but it won't be considered evidence that members can consider as part of the applications.
Board members asked whether they should just postpone the meeting to June, rather than schedule it for the regular May meeting. Rosenbaum replied that putting it off until June would probably lead to fewer people in the village who otherwise might participate.
"We'd like to have the public input," he said. "We think it's important both ways."
A motion to reschedule the petitions to the May 10 meeting carried 6-0, with Board Member Tomas Bueno absent.