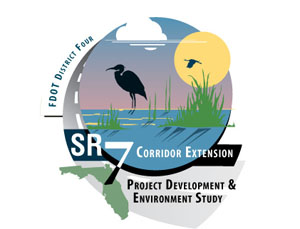 The Florida Department of Transportation has set a public hearing on the proposed extension of State Road 7 to Northlake Blvd. for Wednesday, March 21 at the South Florida Fairgrounds Expo Center (9067 Southern Blvd.).
The public hearing will begin as an open house at 5:30 p.m., with a formal presentation at 6:30 p.m., followed by a public comment period, according to FDOT officials.
The project, estimated to cost $80 million, will widen SR 7 from two to four lanes from Okeechobee Blvd. to 60th Street North and build a new four-lane divided highway from 60th Street to Northlake Blvd. The proposed improvements include bicycle and pedestrian features, as well as intersection upgrades.
The hearing will give people an opportunity to express their views concerning the location and design, as well as social, economic and environmental effects of the project.
Indian Trail Improvement District President Michelle Damone said it is important for residents of the western communities to make a strong showing at the hearing.
"I've already reached out to [Royal Palm Beach] Councilwoman Martha Webster, our Western Communities Council and the Indian Trail Improvement District," Damone said. "We're all going to get organized. We have a huge task of making sure that our residents are represented at the meeting."
Damone said she is well aware that many residents of The Acreage work extended hours without the leisure time that many opponents to the project have.
"Sometimes they work two jobs, and I need to make sure that the residents have ample time to schedule employment so that they can attend this meeting," she said.
Damone added that she was humbled by the number of survey responses the district received. Last month, ITID officials delivered 2,466 postcards to Tallahassee to present to Gov. Rick Scott asking for the completion of the road. Shortly afterward, the project cleared a major hurdle when the Federal Highway Administration signed the environmental assessment to complete the connection of the road from 60th Street to Northlake Blvd.
"Obviously, the surveys played very well with the governor's office, so I want the residents to understand how important it is to attend this final hearing," Damone said.
The project has been opposed by some residents of the Ibis community, including West Palm Beach Mayor Jeri Muoio, who raised environmental objections on grounds that it runs alongside the West Palm Beach Water Catchment Area, although the route, which is east of Ibis, is part of the original SR 7 right-of-way. Part of the extension already exists.
Opponents allege that the route would threaten wildlife and pose contamination risks for the water catchment area.
Draft project documents will be available for public review from Feb. 29 to April 2 on the project web site, www.sr7extension.com, and at several locations including the Palm Beach County Library System's Royal Palm Beach branch at 500 Civic Center Way and the Florida Department of Transportation's Palm Beach Operations Center at 7900 Forest Hill Blvd.
Draft documents will also be on display at the public hearing. Those wishing to submit statements or other exhibits, in place of or in addition to oral statements, may do so at the hearing or send them to Project Manager Beatriz Caicedo-Maddison at 3400 W. Commercial Blvd., Fort Lauderdale, FL 33309, or by telephone at (954) 777-4336 or toll free at (866) 336-8435, ext. 4336.
All exhibits or statements postmarked on or before April 2 will become part of the public hearing record.