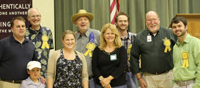 The Wellington Christian School Parent Teacher Fellowship's annual chili cookoff included something for everyone this year. Children enjoyed hot dogs, face painting, crafts and movies while the adults enjoyed chili, fellowship and the open mic contestants.
The open mic event was a new addition to this PTF event, providing an opportunity for "fun" talent that was open to all students, parents and WCS staff. Student participants sang, danced, told jokes and played musical instruments.
Chili cookoff entrants were judged by teachers and administrators from secondary campus including Mark Witwer, Bill Mitchell, Richard Gray, John Raines and Josh Fallon. Their discerning taste buds selected the following winners: Lainie Guthrie, first place; Bethany Stanley, second place; and Jonathan Jones, third place. This year's chili cookoff winners each received a gift card from local business donors including Bonefish Grill, Macy's and Starbucks.
Above: Chili cookoff winners (front row, L-R) Jonathan and Jonathan Jones, Bethany Stanley, Lanie Guthrie, Bill Mitchell and John Raines; (back row) Mark Witwer, "Mack" Gray and Josh Fallon.