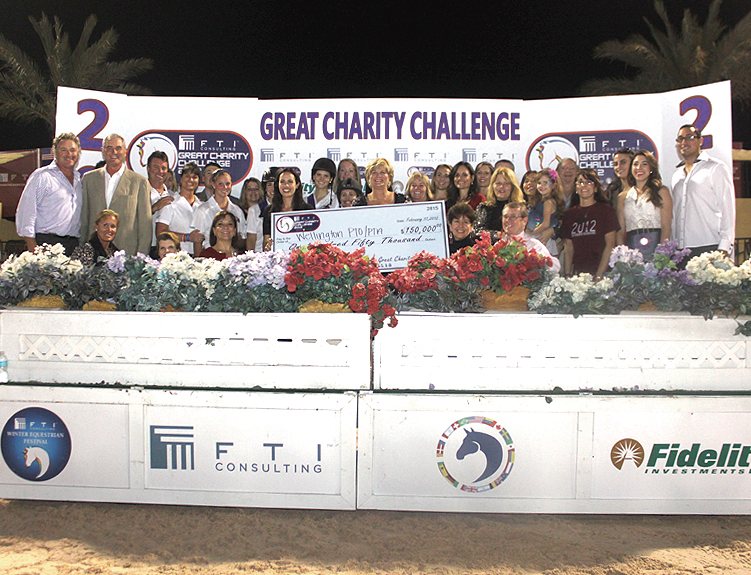 Wellington schoolchildren were the big winners last Friday night, with 12 local schools splitting $150,000 as part of the third annual FTI Great Charity Challenge presented by Fidelity Investments.
The Wellington PTA/PTO Group, anchored by Olympic rider Margie Engle, finished the relay course with 90.32 seconds on the clock, rocketing them to first place.
"It's a win for the community," Berta Ebersole, PTO president at Wellington Landings Middle School, told the Town-Crier. "It's a great effort from the equestrian community — neighbor to neighbor — helping each other out. We're so excited. It's really a win-win situation."
The Great Charity Challenge was created three years ago by Equestrian Sport Productions CEO Mark Bellissimo and his daughter Paige as a way for riders to give back to the community they call home for several months each winter.
The Great Charity Challenge has given away more than $2.7 million to Palm Beach County charities over the past three years.
"It was absolutely amazing," Bellissimo said. "I think it's wonderful. My wife and I, we think it was an amazing thing to include the schools this year."
This year, 32 charities split more than $1.1 million, won by a relay team of three riders jumping a course of jumps. Each charity took home at least $10,000.
Place of Hope, anchored by Olympian Pablo Barrios, took home second place and $125,000. Third place and $100,000 went to Gulfstream Goodwill.
This year, for the first time, fans were able to vote for their favorite charity online at www.ftigreat charitychallenge.com.
The winning charity was the American Humane Society, which received an extra $25,000. Be A Star was second, and Big Dog Ranch Rescue was voted third — both receiving $12,500.
For the schools — which often do their own fundraising — the money is crucial and will help to better Wellington's future, Ebersole said.
Though it hadn't been decided, the Wellington PTO/PTA leaders anticipated each school would get approximately $12,500.
Kim Proenza-Smith, president of the Polo Park Middle School PTSA, said that the funds could help upgrade facilities to match its high-achieving students.
"Our students are achieving high academics, being rated such a high school, by just effort alone," she said. "It's not necessarily the facilities or the tools, it's just great people and great students. This will help us make our facilities just as great."
For Wellington Christian School PTA President Lainie Guthrie, every dollar counts. "We're the only private school involved in this," she said. "As a private school, all the money comes out of our parents' pockets. This is huge for us."
Bellissimo, who has begun a campaign to bring local schools opportunities in the equestrian world, said that the win was a great coincidence. "What a great outcome," he said. "It's sort of fortuitous in many ways."
Like the Wellington Community Foundation, Bellissimo said that the Wellington PTA/PTO Group would remain a permanent charity in the Great Charity Challenge.
"It was a great idea spawned by a chance meeting," he said. "I happened to meet Shauna [Hostetler], and on my first meeting, she asked me why I didn't include the schools in the event."
Hostetler, who is the former president of the Binks Forest Elementary School PTA, knew how hard fundraising can be.
"I was speaking to Berta [Ebersole], and she said that she'd have to do seven fundraisers to raise the amount of money they did tonight," she said. "They're lucky if they raise $10,000 or $15,000. Then, when you get to middle and high school, it's painful to get money from anyone. You have sports and clubs that need funding; it's no longer just about the school."
Ebersole noted that no matter how much parents try to raise money, there is always a need for support for both students and teachers.
"The greater impact is that the children will be getting much-needed services," Ebersole said. "We as parents — no matter how much energy and effort we put together — can't bridge the gap. Any dollar amount is a boost for us. It makes our burden less with the expenses that are already there. It may mean that teachers can have more tools to help children in the classroom."

Above: First-place winners the Wellington PTO/PTA receive their check.