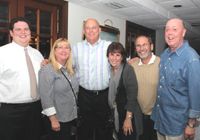 A recount changed the outcome of this race. Look for updates in later stories.
The look of the Wellington Village Council changed significantly Tuesday after voters ousted two incumbents and returned former public servants to the dais.
Former Councilman Bob Margolis unseated incumbent Mayor Darell Bowen. Margolis took 3,341 votes (58 percent) to Bowen's 2,411 votes (42 percent).
Meanwhile, former Councilman Al Paglia narrowly unseated incumbent Vice Mayor Matt Willhite in the race for Seat 4. Paglia took 2,956 votes (52 percent) to Willhite's 2,745 votes (48 percent).
The only new face joining the Wellington council will be that of community activist Shauna Hostetler, who edged out John Greene in the race for Seat 1, being vacated by Mayor Pro Tem Dr. Carmine Priore. Hostetler took 2,946 votes (51 percent) to Greene's 2,877 (49 percent).
Over 5,800 voters headed to the polls — a far higher turnout than in most Wellington elections.
MAYOR'S RACE
Margolis, along with family, friends and supporters, gathered Tuesday night at the Players Club to await the results.
"I'm still in awe," he said. "The phone calls of congratulations have not stopped. I am humbled by all of the people who came out and supported me and voted."
Though he is celebrating the win, Margolis said he knows it's time to buckle down. Next week, he, Paglia and Hostetler will sit down with village staff for a briefing.
"I know there's a lot of work ahead," he said. "We're going to start drafting a road map for what we want Wellington to look like."
Margolis said one of his major goals remains to ask for an independent audit to help Wellington find solutions.
"We've never done it before," he said. "We have a new council, and I think it's the perfect opportunity."
Another major project on the horizon, he said, is the controversial Equestrian Village plan. Margolis, who voted against the project when it came before the Planning, Zoning & Adjustment Board, said he'd like to see the matter go to a referendum.
"That's the project that most of the people came out and voted against," he said. "It really was a polarizing item in the campaign. I think it should go to referendum. I understand that we get elected to represent the people, but so many people in this election voiced their opinion with the vote. I think we need to get input on it."
Margolis noted that the item has come back from Tallahassee with no comments from the state. "It has to be a super-majority vote now," he said.
He noted that although the council has changed, there might still be differing opinions. "I think I am someone who can bring consensus," Margolis said.
The other large issue Margolis wants to tackle is the budget. "That's the other thing at the top of my list," he said.
Margolis gave thanks to all who came out to vote for him.
"Thank you for voting for me and having the confidence in my ability to bring Wellington together," he said. "We have a lot of tough issues ahead, but I am confident that this council will do what is best for Wellington."
Meanwhile, Bowen said that he is proud of the accomplishments he achieved while in office.
"We certainly completed a lot of capital projects," he said. "I'm proud that we got a lot of things done. It took a concerted effort on everyone's part to come together to do the things we needed to do to move Wellington forward."
Bowen said Wednesday that he is relieved the election is over, noting that it was a particularly hard campaign with negative attack ads aimed at him.
"You'll never elect your best leaders that way," he said. "I don't have a solution for it, but something needs to be changed."
Bowen said that he would now shift his focus back to his business.
"I'm relieved," he said. "I'm ready to go back to work. It was a good four years, but I've been neglecting my business."
COUNCIL SEAT 4
Paglia joined friends and family at his home to celebrate the victory.
"It feels great," he said. "It feels like I've been reassured by the community that they believe I will do a good job for them. That's all I care about — doing a good job for the young families, our seniors, people who are out of work and people who have been challenged in these economic times. I want to be a councilman for everyone."
Paglia, who served on the council from 1998 until 2002, returns to the dais after a 10-year absence. Among his top plans, Paglia said he hopes to work with staff to evaluate transportation options for seniors, improve safety in transitional neighborhoods and help small businesses.
"I want to help them look into the grants and workshops that we can run for small businesses," he said. "We can put on workshops to encourage small businesses to take advantage of state and federal grants to improve their bottom line."
Though it was a tough campaign, Paglia said he is grateful for all candidates willing to throw their hats into the ring.
"At the end of the day, we're all Wellington people," he said. "Regardless of any differences we may have, we all want to do what's best for the community."
COUNCIL SEAT 1
Hostetler and her supporters celebrated at her home in Binks Forest.
"It feels great," she said Wednesday. "It feels wonderful. It was quite a night. I was in a little bit of shock because this is what we've been working toward for so long, and now here we go."
Now that the campaign is over, Hostetler said she is eager to "roll up my sleeves" and get to work.
"I'm looking forward to actually being able to get out there and work with my fellow council members, staff and residents," she said.
Hostetler said she hopes that all issues facing Wellington will come into focus now that the election is over.
"Whatever we do," she said, "it has to be done on a positive note, looking forward. We have to recognize opposing opinions on all issues and try to be positive about the direction we take, making sure it's good for all citizens."
Hostetler said she would look to tackle the budget as well as helping small businesses in Wellington.
"I want to be sure that our fiscal needs are within reason," she said, "and that we're making good fiscal choices."
She also wants to boost support for local businesses.
"We have to see how we can best make decisions that will support the businesses we have here already," Hostetler said. "I want to look into the possibility of developing support for local businesses and some sort of 'buy local' program where we encourage residents to patronize local restaurants, shops and other businesses."
She said that she is grateful to everyone who supported her.
"I'm very excited to serve my community," Hostetler said.