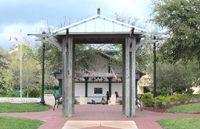 If you need to do some de-cluttering, you'll soon have a chance to do so at the annual Royal Palm Beach Community Garage Sale.
The community is encouraged to bring their unwanted household items to Veterans Park in Royal Palm Beach on Saturday, April 14 from 8 a.m. to 1 p.m.
The event will be a chance for people to clean out their homes, garages and storage areas, and sell the items for some well-deserved cash. So start looking through your clutter; you might find some interesting items that can put cash in your pocket.
"It's a big old-fashioned community garage sale," Royal Palm Beach Cultural Center Facilities Supervisor Carlos Morales said. "Anything at the house that is no longer needed, this is where people can get rid of it."
From that old table that has been sitting in your garage for a decade to clothes you haven't worn in a while, the April 14 sale will be the perfect opportunity to sell it to someone who needs it. There will also be a place for people to sell homemade crafts.
Interested participants are required to sign up by April 6 but are encouraged to do so as soon as possible to get a good spot. "We typically get somewhere between 70 to 80 vendors for this event," Morales said. "And we fill up pretty quickly."
To reserve a spot, a $20 fee is needed for a 10'x10' open-space booth area. Vendors can also rent an 8-foot table for $10 and chairs for $3 each. Vendors will be situated around the fountain and up to the north end of the park. Parking will be minimal at Veterans Park, but there will be a free shuttle service to additional parking every 15 minutes. The shuttle will run from the park to the Royal Palm Beach Cultural Center and Village Hall, which can accommodate plenty of cars.
Although the sale is a Royal Palm Beach event, it's also open to nonresidents. "It's not just for Royal Palm Beach residents; it's for anybody in the surrounding communities," Morales said. "So residents from Wellington, Loxahatchee, The Acreage, Greenacres or whereever are welcome to participate as vendors."
Morales is hoping that many residents will participate in the Community Garage Sale and showcase some interesting items. "If people empty out their garages and attics and find some really good items and want to sell them, this is a great way to reach the public," he said.
Taking part in the Community Garage Sale decreases the amount of stress in having a garage sale on your own. One of the major concerns of having a private garage sale, according to Morales, is getting people to show up. "You can do a garage sale at your own house, pay your own advertising and your own information and still not see the results financially," he said. "Or you can come to a big public garage sale like this and reach out to a lot more people."
When cleaning out and sifting through items, which may hold sentimental value or memories, the key is finding the right items that are worth selling, Morales said.
Getting ready for a garage sale takes a team effort from friends and family. "It takes a lot of work to prepare for a garage sale," Morales said. "The more support people have from their friends and family, and the better they plan things out, the easier it's going to be."
It's also an opportunity to find some great buys from an array of vendors. Morales said shoppers will be able to find deals and have a variety of options, cutting down on the number of shopping trips they'll have to make. "This is a good way for garage sale shoppers to go to one place and view all these items as opposed to going from house to house wasting gas looking for garage sales," he said.
Having a Community Garage Sale not only makes it easier for people thinking of having a garage sale, but it fosters community involvement and social interaction. "It's going to be at a great park where families can come and enjoy themselves," Morales said.
The event will also include live music and entertainment, with a DJ and musicians playing in areas around the park. "We also have the Mess Hall there, and it's going to be open for food and drinks," Morales said. "It's a nice area for people to get something to eat, especially in the morning."
Royal Palm Beach Veterans Park is located at 1036 Royal Palm Beach Blvd. at Sparrow Drive in Royal Palm Beach. For more information about the garage sale, visit www.royalpalmbeach.com or call (561) 790-5149.