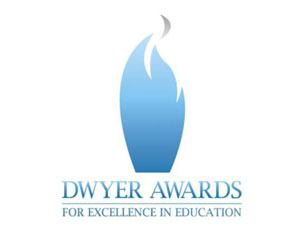 Six local teachers are among the 25 finalists for this year's Dwyer Awards for Excellence in Education.
Candidates will go for interviews before a panel of judges this Saturday, and winners will be selected in five categories: Elementary Education, Middle School, High School, Special Programs and Career Education. The winners will be announced in April.
Finalists from the western communities include Rita Jordan, who teaches web and digital design at Palm Beach Central High School and has been nominated in the Career Education category.
Jordan likes to think that she does more than just teach a class. "I think they think of me as a teacher who goes beyond the call of duty," she said. "I think they understand that I generally care about my students, and work very hard to prepare them for life outside of high school."
Perhaps that is because teaching is not Jordan's first career. "Most of my career, I was in the industry, so I bring that perspective to my students," she said. "I also think they think of me as someone they can depend on. If something needs to be done, they turn to me."
Jordan has been a teacher for six years. "I've been a graphic designer in small agencies, video production studios and large companies such as CNN," she said. "We were the first team that built CNN.com back in the early 1990s. I was part of that initial team."
Difficulties in the Florida job market led her to a job fair. "Within 15 minutes, I had a contract and was going to be a teacher," Jordan recalled.
Although she has always been comfortable behind a computer, she feels she has a social side that is comfortable working with people. "I think once I started teaching, and teaching what my passion was, which is the graphics and the media production, I really felt actualized," Jordan said. "And I kind of have a way with the kids. Who knew? I didn't. I didn't have children. I always enjoyed them, but I didn't realize that I had so much that I could share with them."
Dr. Nicole Crane teaches kindergarten through fifth-grade art at Elbridge Gale Elementary School in Wellington. She is a finalist in the category of Elementary Education.
Crane's classes are active at community exhibitions. "We basically try to do everything we can in the community and the surrounding area," she said. "I have an art-integrated program. We are a science school, so I integrate science with their lessons."
Currently, her students are making clay turtles, clay snails and clay fish to align with their science concepts. "I think part of the nomination has to do with my art integration program and how I bring their science concepts into the art room," said Crane, a resident of Royal Palm Beach. "We do art shows throughout the community and statewide, and national if there is one available."
Crane also has a digital photography club where she takes students out to various locations. "I received a grant that I used to purchase digital cameras," she said. "I use those to photograph nature in the surrounding areas. We have a preserve beside our school, and I take our photography club on what we call our photographic excursion so they learn photography skills as well as science."
Earle Wright teaches television production at Seminole Ridge High School and has been a finalist three times in the Career Education category.
"We do a lot of things that are different from other programs, which is what got their attention," he said. "Now that they have picked me as a finalist, I have an interview this Saturday in front of a panel of judges from the Economic Council of Palm Beach County."
He thinks what sets his program apart is the level of competition in his classes. "In the classroom, my program is very competitive," he said. "We win a lot of contests. We're in our seventh year now; we started our own student video showcase, and we actually sell tickets to the community. We've sold out the last three years straight, 870 seats at $5 a head. We've raised thousands of dollars for my program by putting together a showcase night where we show off our best short films, music videos, commercials, public service announcements, all the stuff we do throughout the year. The best pieces go into the show."
Since his classes have been putting on the shows, other schools have adopted similar events with varying levels of success. "I don't think anyone has been as successful as ours yet," Wright said. "But they've seen what has been working for us, and they have been copying it."
Lucas Basso teaches anatomy, honors physiology and AP biology at Palm Beach Central High School. He is also assistant band director and varsity tennis coach. Basso is a finalist in the High School category.
"I'd like to think it's my versatility and my dedication to my job," Basso said. "I love my job, and I think that really comes across. I really have a passion for what I'm doing and I really like it. I hope that leads to good things for students, because if I'm passionate, they're passionate."
Basso said he feels he can also teach from life experience because he started out as a corporate biologist with North American Biologicals in research and development, as well as a professional trumpeter and percussionist.
"I actually worked in the corporate world before I became a teacher, and I worked in the field that I teach in," he said. "It has given me a perspective that not everyone else has. I was doing biotechnology and now I'm teaching it, so I'm able to give kids a little bit of a different perspective."
Other finalists from the western communities include Sarah Docekal, who teaches intensive reading at Wellington High School, and Victoria Stedt of Equestrian Trails Elementary School, who teaches gifted children.
The Dwyer Awards is a joint project of the Economic Council of Palm Beach County, the Education Foundation of Palm Beach County and UnitedHealthcare of South Florida.
All nominees, finalists and award recipients will be honored Tuesday, April 24, at the Kravis Center for the Performing Arts in West Palm Beach. For more info., visit www.thedwyerawards.com.