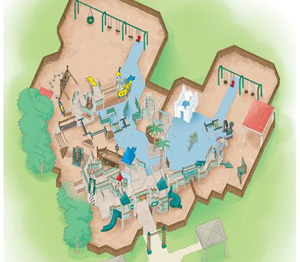 The Wellington community will come together once again to help rebuild the playground at Tiger Shark Cove Park next week — and there's still time to get involved.
The community rebuild begins Wednesday, March 21, and crews will be working from 8 a.m. to 8 p.m. through Sunday, March 24.
Tiger Shark Cove, located at the corner of Greenview Shores and Greenbriar boulevards, is iconic for being the first community-built neighborhood playground in Wellington. The project was spearheaded by parents and launched the political career of now State Sen. Lizbeth Benacquisto (R-District 27).
The project also became a model for other community-led projects, such as Scott's Place playground, which was built in 2010.
"It's very close to a lot of people's hearts," Community Project Manager Kim Henghold said. "The original build brought the community together, and it's something that they cherish. They had a great experience taking part in building it."
Now, 12 years later, the playground is being re-designed for a new generation of children. In December, a professional designer met with kindergarten through fifth-grade classes to help design the new park.
"We have a new group of parents and a new group of children," Henghold said. "The children had a chance to design the playground during our design days, and now the parents are going to come out and make their children's vision a reality."
Volunteers can sign up for any or all of three shifts each day. Children ages 10 to 14 are invited to volunteer with a parent or guardian, but there must be one adult supervisor for every two children under age 14. Students age 15 or older may volunteer if a parent signs a consent form.
For parent volunteers with children ages 5 through 9, a day camp will be offered at Village Park from 8 a.m. to 5:30 p.m., Henghold said.
"The children will be picked up from Tiger Shark Cove at 7:30 a.m. and have a day of fun," she said. "They'll get a pizza lunch."
Additionally, volunteers will be provided with lunch and/or dinner, depending on the shift(s) they work.
"Our goal is to have about 75 volunteers for each shift," Henghold said. "We'll be building rain or shine, so we really want the community to come out and help."
Volunteers are encouraged to sign up before the build by contacting Henghold at (561) 791-4137 or via e-mail at khenghold@wellingtonfl.gov.
If you can't volunteer but still want to get involved, pickets are being sold for $20 and can be inscribed.
"It will help offset the cost of the rebuild," Henghold said. "All of our parks are community parks, and we want residents to feel like they have a part in it. We want them to take ownership of it and really feel like it's their park."