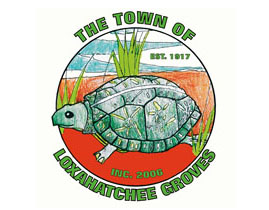 The Loxahatchee Groves Town Council agreed Wednesday to increase its contract with town management firm Underwood Management Services Group by $75,000 to cover additional work that has been placed on the firm.
Town Manager Mark Kutney said the additional money would cover increasing their planning associate to 35 hours a week and other staff work.
With the adoption of the town's comprehensive plan and land development code, the management firm recently took over planning and zoning responsibilities and is also overseeing new committees.
A number of tasks being provided were not in the original contract. They include the review of business tax receipts; administration of cost recovery; review, issuance and enforcement of manure licenses; public inquiries relating to all planning and zoning matters; review of building permits; code enforcement; and lien searches.
Kutney said his staff is developing a list of proposed cost recovery fees, using fee lists from other municipalities in the county. "Nobody does a fee for planning and zoning general services," he said. "That's just something that every government does in its service to the public."
Some municipalities charge for a zoning confirmation letter where staff is required to do research, he said. "We're going to try and work on some fees that we can charge to recover some of the planning and zoning review," Kutney said.
Vice Mayor Jim Rockett agreed that when they talked about planning and zoning a year ago, they had excluded it from the proposal for town management services, thinking that when they addressed it, they would also develop cost recovery fees. "My feeling was that we could recover most if not all," he said.
Rockett suggested that town staff start developing a system of fees in small numbers that could be added to over time. Kutney said he would look at 10 similar municipalities to draw appropriate prices. Rockett said the town could add one or two items to the fee schedule at each council meeting.
"I want to see us recover," Rockett said. "I would like to say that we shoot for 50 percent of this cost as a goal. I don't know if that's reasonable. I've abandoned 100 percent because of all the pushback I've been getting that it's not possible."
Councilman Ryan Liang said he agreed that not all the cost of operating planning and zoning can be recovered. "We need to recover as much as possible," he said. "The general information, inquiries, obviously, I don't think we should charge for that. If it gets more specific to their particular property to work on something, we could have a fee for that."
Liang agreed that the fees should be developed in pieces over time. Councilman Ron Jarriel said that he would like to recover at least 50 percent, but that 100 percent is not possible.
Mayor Dave Browning noted that many people use staff to do the research for them. "A lot of people fish," he said. "They use our staff to do what they could easily look up. I hate to see three or four people looking for the highest and best use for their property and other people are paying for it."
Kutney said the town could charge a fee for permit applications that go through the town office to the county, as well as special zoning letters to confirm the zoning category.
"The area that Vice Mayor Rockett and I talked about was the general inquiry," he said. "That's the tough one because that's the one where people expect to be able to come in to any government of any type and be able to talk to staff and not be charged for the information they requested."
Kutney said he felt the request for the raise was fair in light of the increased workload.
The raise would increase the consulting firm's fee from $20,885 a month to $27,135 per month starting in May.
Rockett made a motion to approve the increase, as well as a table of hourly rates for staff to be charged for services not covered in the contract, and the motion carried 5-0.
In other business, the council postponed the scheduled approval of land use amendments to enable development of the Palm Beach State College campus at B Road and Southern Blvd. in order to correct an error in one of the ordinances and re-advertise. The items were moved to the council's July 3 meeting.