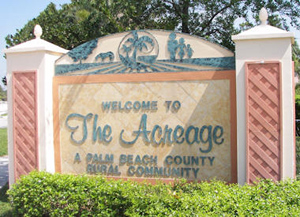 Indian Trail Improvement District Board of Supervisors last week unanimously approved a $4 million cost estimate for the planned community center at Acreage Community Park.
The $4 million figure meets what ITID has budgeted for the project, but the board hopes the final cost comes in closer to $3.2 million, ITID President Michelle Damone said.
Last September, the board approved using $4 million to build what was hoped would be a 25,000-square-foot, expandable community center and parking lot.
At the time, the board was divided as to whether the community center should be built first, or whether outdoor amenities including playgrounds, a splash park, a BMX track and athletic fields should take priority. The supervisors voted 3-2 to proceed with the community center first.
On Wednesday, May 9, architect René Tercilla of Tercilla Courtemanche Architects presented plans for a building of 18,000 to 19,000 square feet, explaining that his staff had spent considerable time discussing what was possible within the budget constraints.
"We met with staff to refine some of those numbers that were in the initial budget and things that weren't necessarily building related," he said. "Then we talked individually with all of you about what you might like to see in a building. Ultimately, we met with the construction manager in our office."
The facility would feature a gymnasium capable of having not just a full regulation court, but two side courts where two games could be going on at the same time. It would be equipped with bleachers, an interior and exterior stage, as well as five or so programming spaces for classes such as karate or art.
The building would be divided so the outside could operate independently of the inside. That way an outdoor concert could be held using the concession area and bathrooms without the need to open the entire building.
"A facility like that would mean you need to have two separate restrooms," Tercilla said. "In general, we believe all that can happen within this building, and I think we're at the point where we have kind of defined what that may be."
Tercilla said the building would not need to be prefabricated steel, as had been discussed previously as a cost-saving measure.
"We believe that this structure is a masonry-and-concrete type of building," he said. "We believe it's a facility that will have multiple levels so that we can take advantage of some of the structural savings. We know that we can give you a very permanent structure as opposed to some of those that were originally discussed."
Damone thanked Tercilla, who had done the initial work at no charge, for going "above and beyond" to help the community move forward.
"I think that should be recognized," she said. "Your integrity and enthusiasm shows, and I personally thank you."
Damone said she was pleased to see that the district could have a community center that the board can be comfortable with, which is also within their budget. "It may not always be the way the board pictured it, but it's a responsible compromise," she said.
Supervisor Carlos Enriquez also thanked Tercilla for his personal dedication to the project.
"If we're going to build a beautiful community center, which this community really deserves, I like what I see, and I'm very comfortable with this," Enriquez said.
Supervisor Ralph Bair also thanked Tercilla, adding that the limited budget made the board wary about being able to get the building they wanted.
Bair said he was in favor of moving forward and tightening down the numbers further.
Supervisor Carol Jacobs said she was also pleased with the work so far, although she would have preferred the outdoor amenities be completed before the community center because she did not feel they would be able to do it with the money they have. "Now, I feel a little more comfortable," she said. "Let's go, get going."
Supervisor Jennifer Hager, who had also voted last September against moving forward with the building, agreed. She made a motion to move the project forward, which Bair seconded. The motion carried unanimously.
Former Supervisor Mike Erickson said he still preferred to build the outside amenities before the community center and added that he remained concerned about operating costs.
Resident Patricia Curry said she was still not sure what they were getting other than an 18,000-square-foot building with basketball courts.
"I'm not sure if we need a basketball court," Curry said. "All the things that you want to do with a community center, like meeting rooms and the Moms Club, we have basketball courts at the high schools and the middle schools. I wish the process were a little bit more open… The public is not really seeing what is going to get done."
Damone said that Tercilla had met with each supervisor individually in compliance with the Sunshine Law in order to put together a project that was within budget.
"He was doing just the basic concepts, the square footage, the bathrooms," she said. "You will not be excluded at all. There will be continued conversation. We have to have a basic concept, and that's all this is… Now there will be a process that the public will be a part of."