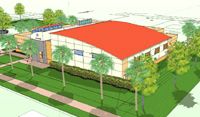 The Wellington Boys & Girls Club is on track to build its new location and assume a new name after a generous donation this week helped boost the club's funds. Officials will break ground at the club's new site at 10 a.m. on Tuesday, May 22.
The club will be called the Neil S. Hirsch Family Boys & Girls Club in honor of a $1.5 million donation by the Black Watch polo team founder and owner of the Players Club in Wellington.
"We are so happy to be breaking ground for this new clubhouse," said Mary O'Connor, president and chief executive officer of the Boys & Girls Clubs of Palm Beach County. "Over the years, the small size of our current facility forced us to turn hundreds of children away. The new Neil S. Hirsch Family Boys & Girls Club will enable us to serve hundreds of children who might otherwise go home to an empty house each day after school or spend school breaks alone. It's going to be an amazing place for kids to come, learn and make lifelong friends."
The new 22,750-square-foot facility located at the northwest corner of Wellington's water treatment plant property at 1080 Wellington Trace is set to be completed in October 2013.
Last month, the Wellington Village Council approved a measure to move the date of completion back from this fall until next fall because fundraising delays pushed back construction.
Wellington agreed to cover the $1.3 million gap, which the club will pay back over 10 years. That money was in addition to the $700,000 Wellington already had promised, as well as $600,000 from Palm Beach County and another $1 million in private donations.
In the meantime, the club will be able to stay at its current location on South Shore Blvd. for another year after the council voted 3-2 on Tuesday to renew its lease agreement with the club.
Mayor Bob Margolis and Vice Mayor Howard Coates opposed the measure, citing concerns about spending additional public money on the organization.
"This is a difficult issue for me," said Coates, who served on the club's board for years. "I'm reaching the point where I have some concern about the government's involvement."
Margolis agreed. "The Village of Wellington has given the Boys & Girls Club $50,000 a year for the last 20 years," he said. "That's $1 million, plus the $700,000."
Coates noted that already, residents are unhappy that Wellington has promised $700,000.
"When we decided to go down that path," he said, "the discussion was that this $700,000 would replace the $50,000 that we'd been donating in years past. I'm left with a little bit of a feeling that it's coming back to the well again. We've already committed $700,000; we've committed more in terms of the deficit. Now we will be repaid that, but to have another $50,000 of public money applied to this, that bothers me."
Coates said he thought that the money could be used by other organizations in need. "There are a lot of great organizations out there that could come to us asking for donations and grants," he said. "I'm having some difficulty with where we draw the line. When do we give to one and not the other?"
Margolis noted that other organizations have come to Wellington looking for financing.
"I get a lot of requests," he said. "I just received a request for the village to pay for the band uniforms at Wellington High School. It's not that I'm against the Boys & Girls Club. There needs to be an avenue in place to where these types of organizations can come to the village and have their requests voted on."
Councilwoman Anne Gerwig said she felt that the Boys & Girls Club provided a needed service to Wellington. "It keeps the kids in a safe environment," she said. "It keeps them on the right track. I think this does have a public value. It's not just a private entity that we're helping out."
Councilman Matt Willhite said that although he shared Coates' concerns, he understood the situation the club was in.
"I'm hoping this is the last time they come back for this," he said. "It's not their fault that the project isn't further ahead. They were hoping to be in the new facility already."
Willhite said that he was in support of renewing the agreement for this year.
"This is it," he said. "The well is dry. The bucket is on its way up. I will support it this year, but this is the last time."
The measure passed 3-2 with Gerwig, Willhite and Councilman John Greene in support.
Margolis and Coates stressed that they were not opposed to the Boys & Girls Club but believed Wellington had already committed enough money.
"I can't support this," Coates said, "but it's not because I don't support the Boys & Girls Club. I think this is coming back to the well one too many times. I think we've made a tremendous commitment already."