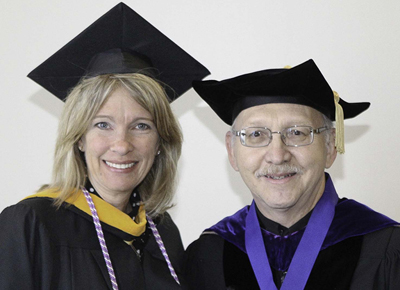 Caregiving is something Christine Brooks has always done, from her days tending to patients as a critical care staff nurse to her current role nurturing young minds as assistant professor of nursing at Palm Beach Atlantic University.
"If students feel empowered, they're going to excel," said Brooks, who joined Palm Beach Atlantic's faculty in 2006. "By recognizing the strengths and gifts they each have, we can help them learn how to come together as a team."
This spring, the Royal Palm Beach resident was named the 2012 recipient of the university's Charles and Hazel Corts Award for Outstanding Teaching.
In nominating her for the award, nursing students described Brooks as someone who inspires them through her passion for the profession, and who encourages them to do their best by creating an open environment of communication.
Students also noted that Brooks' reputation alone helps them gain a foot in the door with influential community organizations, and they said she constantly seeks off-campus learning opportunities for her students.
"We are doing much more than teaching nursing," Brooks said. "We are preparing our students for professional careers."
To help guide students along, Brooks developed Prescription for Success, a student retention program involving intensive study assistance to help students achieve their academic goals, pass courses and excel on competency exams.
Brooks is a co-sponsor of the university's chapter of the National Student Nursing Association, and she herself is a member of Sigma Theta Tau international nursing honor society. She also is member of the school assessment and curriculum committee and serves as the nursing school's representative to the Senate Ethics Committee.
Off campus, Brooks is active at the Royal Palm Beach campus of Christ Fellowship Church, where she volunteers in student ministries. She holds a bachelor's degree from Georgia Southern University and a master's degree from Kennesaw State University, and she is pursuing a doctorate at Nova Southeastern University. She is conducting research on admissions criteria that predict success on national licensure exams.
She has been married to her husband, Travis, for 15 years, and they have three children: Peyton, 13; Dawson, 11; and Megan, 10.
Brooks said she was completely caught off guard the day the award was announced. However, the award validates both the School of Nursing and the leadership of its dean, Dr. Joanne Masella, she said. "She's the one leading by example. She provides an atmosphere where we can have professional growth," Brooks said. "She's empowering us, and in turn, as leaders we can empower our students."
The Award for Outstanding Teaching is provided by an endowment fund established in 1995 by former Palm Beach Atlantic President Dr. Paul Corts and his wife, Diane, in honor of his parents, Charles and Hazel Corts, and in recognition of their commitment to higher education and scholarship.
Palm Beach Atlantic previously presented a "Professor of the Year" award annually. As this year's recipient, Brooks will serve as the faculty grand marshal for the coming academic year. She will carry the university's mace in procession at all ceremonial functions, such as degree-granting ceremonies or other formal convocations.
Palm Beach Atlantic University is a private, independent university offering undergraduate, graduate and professional degrees, with campuses in West Palm Beach, Orlando and Wellington. The university is dedicated to the integration of Christian principles to prepare students for learning, leadership and service. For more info., visit www.pba.edu.
Shown above, Christine Brooks with Professor of Graduate Counseling Psychology Dr. Henry Virkler, the 2011 award recipient.