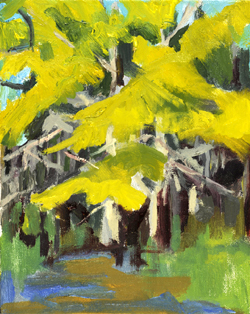 The Palm Beach County Cultural Council soon will present two solo exhibitions, collections of original works by Palm Beach County artists Nancy Tart and Roxene Sloate. The exhibits run from July 14 to Aug. 11 in the Cultural Council's exhibition space at its new headquarters, 601 Lake Ave., Lake Worth.
Tart draws on Florida's and New England's parks, beaches and preserves as ongoing inspiration for her paintings. "I paint on-site, so packing up my paints and easel in my car in the mornings is an adventure," she said. "Finding a balance between interpreting the landscape and allowing the paint to have a 'voice' is a constant challenge. Painting plein air is a creative journey that leads me on a trip that hopefully, will have no final destination."
Tart, a resident of Palm Beach Gardens, has exhibited in multiple exhibitions nationwide and received awards for her excellence in painting, including honorable mention, "Sharing a Vision of Contemporary Art," National Association of Women Artists, Armory Art Center, West Palm Beach; Award of Merit, "Individual Expressions," National Association of Women Artists, Northwood University, West Palm Beach; Excellence in Children's Broadcasting by the Children's Television Network, "Start With Art," program, Providence, Rhode Island; "Nancy Tart: Paintings & Drawings," Juno Beach Town Center, Juno Beach; and the "58th annual All Florida Juried Competition and Exhibition," Boca Raton Museum of Art. Tart earned a bachelor's degree in studio art from Skidmore College in New York and a master's degree in art education from the Rhode Island School of Design.
"I have this ongoing passion for creativity, imagination and color," Sloate said of her approach to painting on canvas. "New ideas and relationships come out of exploring the paint and offer up surprises."
Since moving to Florida from New York, Sloate has become engaged with plein air paintings and portraits. Currently she is involved in a series of "ocean" paintings, some made at the beach and others further explored in her studio. She is a resident of Delray Beach.
"South Florida living has played a huge role in shaping my artistic vision," Sloate said. "The dazzling light makes the colors sing. The mysterious ocean beckons discovery of unknown journeys. The swamplands reverberate with reminders of the beginning of creation and the primal order of mankind."
Throughout her career, Sloate has exhibited and won awards in galleries, museums and shows in both New York City and Florida. In July 2008, her painting Joseph's Coat was exhibited in the Boca Raton Museum of Art's "All Florida Exhibition." In November 2008, her paintings were in the show "Traces of Memory" in the Estense Castle, Ferrara, Italy. Sloate is in the 2008-09 New Art International, Volume XIII published by Book Art Press, and the books 2012 Best of Worldwide Charcoal, Pastel and Pencil Artists as well as the 2012 Best of Worldwide Oil. In July 2011, her pastel, Field of Dreams was in the 60th "All Florida Exhibition" at the Boca Raton Museum of Art. Sloate teaches painting at the Boca Museum School and pastel at the Armory Art Center in West Palm Beach.
Sloate, who holds a bachelor's degree in art history from Smith College, has studied at the Kansas City Art Institute, the New York Art Students League and with Graham Nickson, Miroslav Antic, Philip Pearlstein, Timothy Hawksworth and Dennis Aufiery. She is membership chair of the National Association of Women Artists-Florida. Sloate is also a member of the Boca Museum Artists Guild.
Rena Blades, president and CEO of the Cultural Council of Palm Beach County, said the invitation to artists to show their work in solo exhibitions in the council's gallery has been very well received by both the council's artist membership and the visiting public.
"We are very pleased to see many Palm Beach County artists who specialize in a variety of mediums, taking advantage of showing their works in solo exhibitions," Blades said. "It's a value we offer artists by assisting in building their resumes and careers, and a value we can then extend to the community by offering new and exciting exhibits for viewing free of charge in our gallery, on a regular basis."
Artists interested in learning more about the Palm Beach County Cultural Council's solo exhibitions are asked to contact Nichole M. Hickey, the cultural council's artists' services coordinator, at (561) 472-3336 or nhickey@palmbeachculture.com.
The Palm Beach County Cultural Council is now located in the historic Robert M. Montgomery Jr. building at 601 Lake Ave. in downtown Lake Worth. It is open to the public Tuesdays through Saturdays from 10 a.m. to 5 p.m.
For more information, visit www.palmbeachculture.com.
Above: Spring in the Swamp by Nancy Tart.