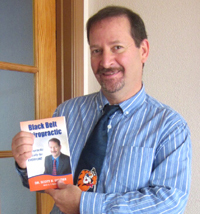 Royal Palm Beach chiropractor Dr. Scott Snyder recently added two more accomplishments to his credit. Snyder's book Black Belt Chiropractic was published this month after he recently became a black belt in shaolin-kempo-karate.
"I felt it was time to share some of my knowledge about chiropractic with the general public, and the relationship between martial arts and this health system is a very logical one as both place emphasis on the spine and proper movement of the body," Snyder said.
The book contains a short history of chiropractic healthcare, an explanation why chiropractic is for everyone, why balance is so important and how chiropractic care can improve overall health.
To his credit, Snyder is donating all of the proceeds raised for the book to the St. Jude's Children's Hospital. Snyder has practiced chiropractic medicine in Royal Palm Beach for more than 20 years and has been an active part of the local community.
For more information on Black Belt Chiropractic, call the Snyder Chiropractic Office at (561) 798-8899. The office is located at 11328 Okeechobee Blvd. in Royal Palm Beach.
Above: Dr. Scott Snyder with his new book.