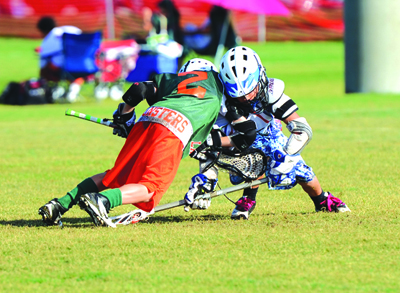 By Gene Nardi
The Florida United Lacrosse Club hosted its annual Palm Beach Blast Cup on Saturday and Sunday, June 9 and 10 at Wellington Village Park. The tournament is part of an annual series the elite club hosts each year.
In the past, the Blast tournament was held in Boca Raton, but the venue changed this year, and was hosted in Wellington for the first time at Village Park. Sixty-eight teams competed over the weekend in age groups from U-11 through U-19 boys. Club teams from Fort Lauderdale to Jacksonville attended the two-day event.
Local lacrosse clubs Wellington Wolfpack U-11 and the U-13 Palm Beach Loggerheads also competed. The event drew thousands of people to Wellington over the weekend.
Each team competed in a total of a five-game series, round-robin. Lacrosse is one of the fastest-growing sports in South Florida, and many local teams will be competing in several tournaments throughout the summer.
Shown above: Wellington Wolfpack U-11 midfielder Josh Miloch faces off against a player from the Monsters from Sarasota.